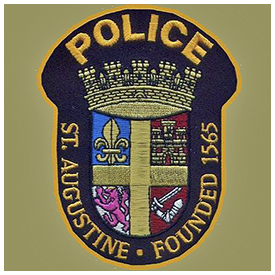 Each weekday, Historic City News publishes a summary of calls handled by the St Augustine Police Department. The information contained in this report is taken from sources deemed reliable; the accuracy and completeness of which Historic City News does not control and cannot guarantee.
The original public records are on file with the St Augustine Police Department and should be consulted before taking any action.
• 16-17732 Kenneth Ray Staford, w/m, 36, Bostwick, Fl. was observed by Officer Brittney Garmon driving a 1996 red GMC while stopped at a red light. She checked the tag and found it had expired in 2014. Staford was stopped, the investigation revealed that Staford's driver's license was suspended and revoked. Officer Garmon issued Staford a citation for the expired tag. He was arrested for Habitual Traffic Offender and Felony VOP/ DWLSR.
• 16-17784 Isaiah A. Washington, b/m, 21, Butler Av. was arrested on a Battery charge signed by a bouncer at the Whit Lion. Hunter Fairbanks while working as a bouncer at the White Lion asked Washington to leave the bar for a second time because the manager felt Washington has caused too many disturbances in the past. As Washington was walking out he was in a verbal argument with Fairbanks, once outside Washington spun around and hit Fairbanks on the right side of the head and a fight pursued. Fairbanks signed a complaint against Washington; he was arrested and transported to the County Jail.
• 16-17823 A criminal Mischief was reported on Julia St. The complainant stated that sometime over the night someone broke his windshield and all four side windows out of his car. At the same time someone ripped the victim's mail in half and threw it to the ground. There are witnesses or suspects in this case.
• 16-17883 Bradley Benjamin, homeless, 49, w/m was arrested on an open warrant out of St. Johns County. He was transported to the County Jail without incident.
• 16-17895 Police were called to the Village Inn on Ponce Blvd. A taxi driver had an intoxicated w/f, Sondra Varney, 42 of N. 6th St. refusing to exit his cab. When the police attempted to coax Varney out of the cab she became belligerent and refused. Officers physically removed Varney from the cab and arrested her for Disorderly Intoxication. She was transported to the County Jail without incident.
• 16-17946 William T. Kinlaw, w/m, 32, Dufferin Street was arrested for Aggravated Domestic Battery. Melanie Baker, w/f, 37, Dufferin Street (victim) wrote in her statement that Kinlaw Choked her until she could not breath and feared for her life. Once Kinlaw left the room to bathe, Baker ran to call the police. Kinlaw was taken into custody and transported to the County Jail. A check of Kinlaw revealed that he was convicted of Felony Domestic Battery back in March 2016.
• 16-18005 Justin Overbee, 24, w/m Bay Street was arrested for Reckless Driving, An officer observed Overbee twice within a couple of minutes driving excessively fast. The 1st time Overbee was observed driving somewhere around 95 mph. The 2nd time the officer tracked Overbee in his 1998 Honda CRV with his certified speedometer at 90 mph in a 40 mph zone. Before Overbee was transported he told the officer he was having transmission problems.
This ends the report from 06/03 through 06/06
Share your thoughts with our readers >>