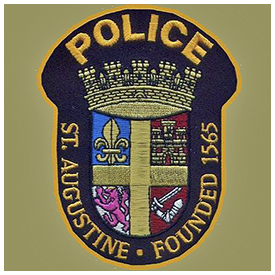 Each weekday, Historic City News publishes a summary of calls handled by the St Augustine Police Department. The information contained in this report is taken from sources deemed reliable; the accuracy and completeness of which Historic City News does not control and cannot guarantee.
The original public records are on file with the St Augustine Police Department and should be consulted before taking any action.
• 16-18042 Pui Ying, o/f, 45, Castano Street was arrested for Domestic Battery at Home Depot. Ying was in a verbal argument with her husband Howard Lee when the officers arrived. Lee was attempting to calm the situation when Ying pushed him in the chest in front of the officers. Officers placed Ying in handcuffs and arrested her, she was transported to the County Jail without incident. Lee was given a Domestic Violence Packet and a DV Assessment form was filled out.
• 16-18044 A City Employee at the Historic Parking Facility called stating while counting the cash the garage received that day she came across a counterfeit $20 bill. The bill was confiscated and placed into evidence to be held there. It is unknown who or how the bill was passed.
• 16-18059 A Target employee was arrested for A Scheme to Defraud, in this case the Target Corporation. Carey E. Johnson – Birkett, 27, w/f, 4th Av wrote a statement stating that during the latter part of May she took cash from her cash register 7 times totaling $1900 and she activated a Starbucks Card valued at $100.Johnson – Birkett was taken into custody and transported to the County Jail.
• 16-18064 Officers were dispatched to Parole and Probation at 75 King Street to pick up Dustin d. Cowgill, 37, w/m, Neck Road, Palm Valley. Cowgill had an open warrant out of Duval County; he was transported to the County Jail without incident.
Share your thoughts with our readers >>