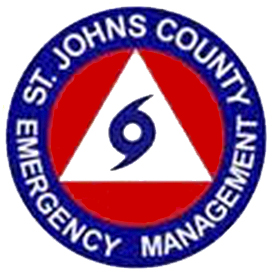 Curfew still in effect as some residents return home. Historic City News readers are reminded that St. Johns County is still under a local curfew from 8:00 pm – 6:00 am for affected areas.
The City of St. Augustine is open for re-entry for areas west of the Intracoastal Waterway.
Many roads remain blocked by storm debris. Road and Bridge crews are working throughout the County to clear the debris from roadways. Please use caution when traveling along roadways.
St Johns County residents in need can receive two days' worth of food (six meal-units) per person and each family can receive two-cases of bottled water (48 bottles). Points of Distribution are open at Allen D. Nease High School in Ponte Vedra Beach and at Pedro Menendez High School until 7:00 pm this evening.
All water utility customers on Anastasia Island will have a boil water notice in effect as the water service is restored.
St. Johns County is under a coastal flood warning for the St. Johns River
UTILITY REPORT
Florida Power & Light (FPL)
Outage:
49,000
Contact:
1-800-4Outage
JEA
Outage:
Contact:
904-665-6000
St. Johns County Utilities
Outage:
All customers east of the Intracoastal Waterway remain without water and sewer until restoration of power
Contact:
904-209-2700
City of St. Augustine Utilities
Water has been restored to the island. Sewer is waiting on power restoration
Today's Weather:  Cloudy, with a low around 73. A 40 percent chance of showers and thunderstorms. Northeast wind around 8 mph.
Tonight's Weather: Showers likely and possibly a thunderstorm before 2:00 pm. Cloudy, with a high near 84. Northeast wind 8 to 13 mph. Chance of precipitation is 60%.
Share your thoughts with our readers >>