Heather Sutherland-Neville, the wife of St Augustine City Commissioner Todd Neville, is an appointee of the city who serves on the Citizen Advisory Committee of the North Florida Transportation Planning Organization.
The regional planning organization makes decisions about future transportation projects, initiatives, and improvements. They also provide leadership for a continuous and comprehensive transportation planning process among the group of fifteen voting members that are elected officials and transportation agency representatives.
The Citizens Advisory Committee, where Neville serves, does not have a vote in TPO decisions, but rather provides an opportunity for citizens to participate in the transportation planning process. Members are appointed to ensure a diverse cross section of the public.
But some in St Augustine are telling Historic City News that they feel Neville does not represent a cross section of anything — other than her own personal mobility agenda. Neville is the founder of the bicycle activism group, VeloFest.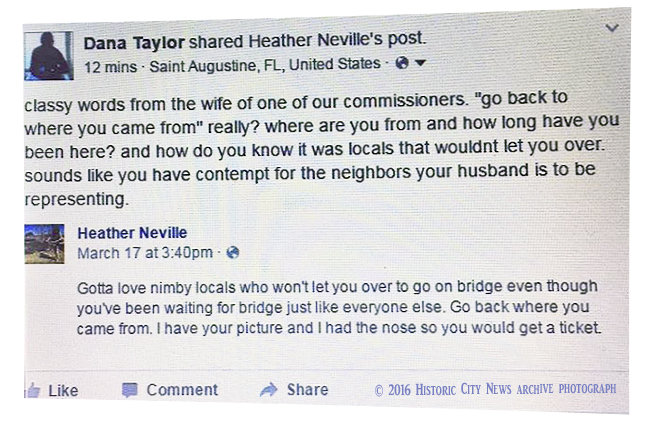 Readers referred us to a rather heated discussion that broke out on social media last week. It started after Neville expressed a somewhat dismissive and aggressive point-of-view concerning her driving experience and traffic congestion on Anastasia Boulevard at the iconic Bridge of Lions.
In those comments, which were published on facebook on March 17th at 3:40 p.m., Neville wrote, "Gotta love nimby locals who won't let you over to go on bridge even though you've been waiting for bridge just like everyone else." Neville went on to say, "Go back where you came from. I have your picture and I had the nose so you would get a ticket."
Some readers who participated in the virtual skirmish, like local pawn shop owner and 25-year resident Dana Taylor, were offended by Neville's tone, name calling, and threats of photographic surveillance; presumably of other local drivers.
At least in Duval and St Johns County, publicly available driving citation records indicate that Neville is, herself, no stranger to traffic court. That information led another longtime local resident, Alice Sutherland (no relation), to question if Neville is the best qualified person to participate in a transportation leadership role representing the community.
A number of Davis Shores residents and members of the St Augustine North Davis Shores neighborhood association are speaking out critically about the public way in which both Heather Neville in her role at the transportation planning organization, and her husband, Todd Neville, in his capacity as city commissioner for Seat 4, are representing the views of the residents. Several e-mail communications sent by Commissioner Neville to participants in the facebook discussion were published by the recipients.
Historic City News will continue to monitor and report on the situation as it continues to develop.
Share your thoughts with our readers >>