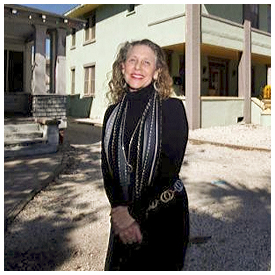 Donna R. and Scott G. Wendler are largest single owners of real estate in Block G of the Model Land Company subdivision. Historic City News found that together with their company, Wendler Properties, they own eight building lots purchased between 1998-2006; four that face King Street and the connected four that face Oviedo Street. The area is about 55,300 square-feet with a perimeter of about 950 ft.
The Wendlers had hoped to build a quaint, better quality 80-room boutique hotel on their property that would greatly enhance the first impression given to visitors traveling the King Street Entrance Corridor, and to be open in time for the 450th Commemoration. That didn't happen.
In a classic case of government overreach and the road to Hell being paved with good intentions, the city's clique of preservation-addicts felt compelled to arbitrarily proclaim that any building in the city that is 50-years-old or older is to be protected as a historic structure. 50-years-old, really? I have a set of golf clubs older than 50-years-old, and I would hardly consider them "historic". The Wendler houses were built between 1910 and 1930. In a centuries old European town, occupied by native indigenous people for more than a thousand years before that, 50-years-old is hardly worthy of mention.
The appointed Historic Architectural Review Board denied Wendler's permit application in 2007. At the time, Wendler said she researched the demolition applications made to the city over the prior 10-year period, and only seven of the 162 applications were denied indefinitely — all seven were Wendler's.
In a unanimous opinion in March, 2013, Florida's 5th District Court of Appeal reversed an earlier decision by Circuit Judge J. Michael Traynor in St Johns County and gave the Wendlers a green light to litigate their property rights claim against the City of St. Augustine. And, because they were denied the necessary demolition permit to undertake construction of the boutique hotel on King Street, they brought a $3.4 million lawsuit; seeking to recover damages using the Bert J. Harris Jr. Private Property Protection Act.
The first Marks-Gray invoice paid by the City, dated November 10, 2014, was only the beginning. Historic City News has verified that two law firms, including Quintairos, Prieto, and Wood, as well as St Augustine Court Reporters, have been paid $67,687.34 to defend the city from the lawsuit. Last Monday night, the St Augustine City Commission approved another $10,557.27 legal bill on the "consent agenda" from Marks-Gray.
The total in outside attorney fees that you, the St Augustine taxpayer, have paid to defend this litigation is $78,244.61 — AND the litigation is not over.
Do you think this is a good use of city tax dollars?

Share your thoughts with our readers >>