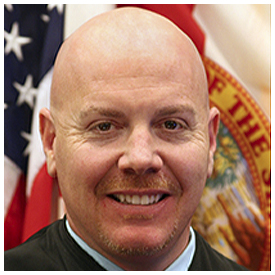 The Florida Judicial Qualifications Commission reported to Historic City News that they have notified the state Supreme Court of five counts of misconduct against 7th Judicial Circuit Judge Scott DuPont. The 7th Judicial Circuit serves Flagler, Putnam, St. Johns and Volusia counties.
In the August Election, DuPont made claims against his campaign opponent, Malcom Anthony of Ponte Vedra Beach, using inaccurate information he downloaded from a background check website offering to provide criminal and court records on individuals.
DuPont had a tab on his campaign website devoted to information about Anthony, titled "Do You Trust My Opponent to be your Circuit Judge?". On it, DuPont posted the unverified information he obtained from "Instant Checkmate".
The home page of the "Instant Checkmate" website warns that information might not be accurate and that it should be independently verified.
DuPont defeated Anthony with 62 percent of the vote.
In a letter from the commission to DuPont informing him of the charges, they wrote "In spite of those warnings, and instead of taking any steps to verify the scandalous information about your opponent found on the website, you recklessly posted the results of the search."
Among the unsubstantiated and unverified entries were claims that Anthony's wife had been arrested three times, his daughter was arrested 21 times, he had been ticketed for parking in handicapped spaces three times, he used aliases and that he'd legally changed his name to hide his past.
The commission also charged DuPont with making false statements during a televised candidate forum about Anthony's driving record and a claim that Anthony had cheated during a straw poll conducted by the Volusia County Bar Association.
During the same forum, DuPont said he refuses to declare laws unconstitutional because that would be "legislating from the bench" and that if "they don't like the decision, they can appeal it." The commission said that his position is in conflict with his oath to uphold the state and federal constitution.
Judge DuPont has 20 days to respond before a court hearing.
Share your thoughts with our readers >>