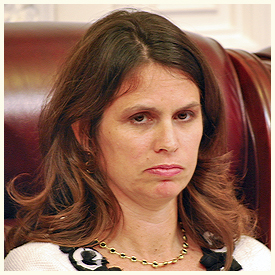 Historic City News has confirmed that this afternoon Leanna S. A. Freemen will seek re-election to the St Augustine City Commission.
After weeks of speculation by readers who had received telephone calls or were asked in person if they would support her if she sought a third term, Freeman has made her bid official.
Freeman was reelected in 2012 to her current, four-year seat (Seat 2) without opposition. Her name never appeared on a ballot during that contest.
Freeman has named Krista S. Bennett as her campaign treasurer, and herself as deputy campaign treasurer. Seats on the St Augustine City Commission are non-partisan.
Freeman, a St Augustine lawyer, lives with her husband Heinz Dauth, a son and daughter, in South Davis Shores.
Share your thoughts with our readers >>