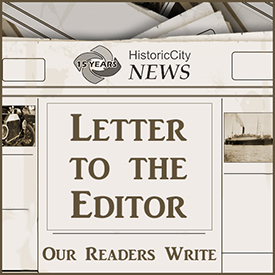 Letter: Multitude of reasons Phillips is not qualified
Michael Mann
St Augustine, FL
Dear Historic City News editor:
I heartily support the St. Augustine Record's endorsement of Mayor Nancy Shaver. There are a multitude of reasons why Kris Phillips is not qualified to be the Mayor of St. Augustine:
Several years ago, Sheldon Pettit was an employee of Kris Phillips at both of her radio stations. He had numerous responsibilities including commercial traffic manager, commercial production, on-air co-host and engineer, among other duties. Nationally syndicated radio personality, Dave Ramsey, had sent several cans of cookies to the station, one of which was for Mr. Pettit. Somehow, Teddy, Kris Phillips dog, got into Sheldon's can of cookies. Kris talked about it on air on WFOY. When asked what she was going to do about the cookies, she said that she was going to put them back into the refrigerator and that Sheldon would never notice. Word got back to Sheldon as to what happened and he resigned from the stations. Kris never offered an appropriate apology to Sheldon or on air for her action. If this is how Ms. Phillips treats a valued employee, one can only imagine how she will deal with the many City employees.
According to my conversation with the FCC, radio stations are supposed to have rules for their contests. When I asked Ms. Phillips for a copy of certain contest rules, she said that she did not have any and that she was just a small station owner and did not have time to write contest rules. If she does not have time for such rules, how can she have time to deal with the multitude of rules, regulations, ordinances and statutes that affect a municipality.
Two years ago, on Bargain Hunters Radio, a station staple for a number of years, a contest was being run with multiple prizes of two Via Airline tickets to Charlotte, North Carolina. I was the first person to correctly answer a question (what was Pres. Harry Truman's middle name; the answer was S, it wasn't an initial) and I was declared the winner on air. Afterward, I attempted to pick up my prize and go to the Belk Bowl in Charlotte, but was not given the tickets. After months of sending emails to Ms. Phillips as to why I was not given the tickets and never receiving a response from her, I ran into her at an appearance at the Bank of St. Augustine near State Road 312 and A1A. She said that it had been stated that the tickets were subject to availability and she then said that there was no availability for any of the tickets. At the time she ran the contest, she knew that there were no longer any tickets available. Under normal circumstances, subject to availability is understood to mean that certain dates may not be available rather than no dates were available. At best, her action was deceitful and, at worst, possibly illegal. The FCC is investigating this matter. I find it impossible to trust Ms. Phillips.
Throughout this year, both stations have had so much dead air (aside from after any thunderstorms or tropical systems) that one would have expected several funerals for that dead air. If Ms. Phillips cannot keep two radio stations on air, how can she be expected to keep a City running? Mayor Shaver has clearly demonstrated how the City can be kept operating after a Category 3 hurricane. There is no comparison between the capabilities of the two
This summer, WFOY aired a promotion for one of the Concert by the Sea concerts on St. Augustine Beach, indicating the musical group performing and the restaurant providing the food for sale. Unfortunately, WFOY kept airing the same promotion with the outdated information for a month after the concert despite there being other concerts with different musical performers and food providers.
WFOY has repeatedly promoted the candidacy of Ms. Phillips on air without affording Mayor Shaver equal time under FCC rules. If she cannot follow such basic radio and television station rules, how can one expect her to follow the rules applicable to a city administration and its mayor?
On air, the station owner has been referred to as Kris Phillips Broadcasting. According to the records of the Florida Department of State, Division of Corporations, the name Kris Phillips Broadcasting does not exist and that the correct entity was Phillips Broadcasting, LLC. Were it just that the incorrect name was used for promoting her campaign, that would be improper in itself. A review of the State's records show that Phillips Broadcasting, LLC was twice dissolved in the past four years (2012 and 2014) for failure to file its Annual Report. The lack of attention to such an important state requirement does not bode well for Ms. Phillips to comply with the many requirements to which a City must adhere.
Several months ago, while being interviewed on WSOS, former Mayor Joe Boles spoke favorably about the dialogue that had been opened with the current administration. Mr. Boles is the co-host of a weekly program on WFOY.
Based upon all of the foregoing, it is obvious that Kris Phillips is clearly not qualified to serve as Mayor of St. Augustine. Mayor Nancy Shaver has done an excellent job and deserves re-election for another term. No outside PAC should determine who should serve the people of the City of St. Augustine as its Mayor.
Share your thoughts with our readers >>