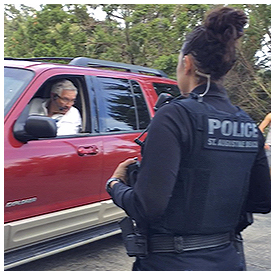 Letter: Sheriff's employee allowed illegal handicap parking
Merrill P. Roland
St Johns County, FL
Dear Historic City News Editor:
Yesterday afternoon I attended a Veterans Day event in St Augustine Beach. I properly parked my motorcycle, displaying a permanent handicap tag, in a marked handicap parking space at Lakeside Park.
While looking for a parking space, I observed an SUV parked in the striped Handicap Parking zone where, according to Florida law, even a disabled person is prohibited from parking.
After I found a legal space for my vehicle, I approached a uniformed St Augustine Beach police officer to report the violation of the posted space by the SUV. We observed that the SUV did not have a handicap tag nor did it have a properly displayed handicap placard.
Instead, hanging from the windshield mirror, was a St Johns County Sheriff's Office employee identification card displaying the name and photograph of William Jones; a civilian sheriff's employee and officer in the St Augustine Beach Civic Association.
While we stood in the parking lot, Jones approached and moved his vehicle in lieu of receiving a $200.00 uniform traffic citation.
I have formally complained to Senior Internal Affairs detective Michael P. Kunovich at the St Johns County Sheriff's Office, however, my past experience has been that Sheriff Shoar has protected Jones — going so far as to reverse the sustained findings against Jones in a previous internal affairs investigation.
I want to know why Sheriff Shoar would continue to provide immunity to Bill Jones given his growing list of complaints and internal affairs investigations. Almost anyone else would have been prosecuted.
Share your thoughts with our readers >>