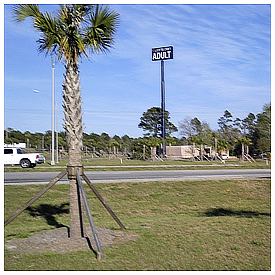 When the Waffle House at US-1 and I-95 South in St Johns County was demolished last month, Historic City News readers speculated about what would replace the long-closed restaurant. Now they know.
Towering high in the sky are the new business signs for Lions Den, located at 10770 US-1 South in St Augustine, accompanied by the giant word "adult" in all capital letters, which has people wondering if conservative St Johns County is ready for the return of another "Cafe Erotica" only at a different local exit.
County official Jimmy Acosta become the brunt of years of jokes from the late owner of the controversial "bikini bar"; that, by county ordinance, could only serve soft drinks. Miles of billboards that tempted their audience to "dare to compare", soon carried politically charged insults and mockery aimed at Acosta when he went after the topless lounge for alleged violations of the county's sign ordinance; comparing Acosta to the television character of Mayberry's deputy, Barney Fife.
Lions Den's owner, "Augustine Retail 55 LLC" a foreign corporation located at 110 E Wilson Bridge Rd Suite 100 in Worthington, Ohio, paid the local business tax in St Johns County indicating that the business began February 16, 2016, trading as "Lions Den Boutique", a retail store.
According to the tax collector's office, the business tax paid would allow the sale of new merchandise at that location; which could include adult toys and novelties, lingerie, or adult-themed gifts similar to Frederick's of Hollywood or Adam and Eve. It does not include a bar, adult nightclub, or adult movie theatre.
The signs still say "Opening Soon" so we will continue to keep an eye on their progress and whether or not James Acosta, who is still a Code Enforcement Inspection Supervisor celebrating his 16-year anniversary on March 31st, will have to start earning his $73,000 annual paycheck again.
Share your thoughts with our readers >>