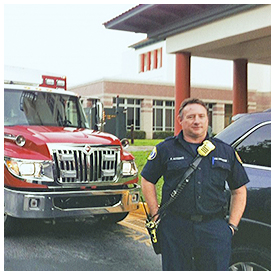 Historic City News learned that on Wednesday, July 20th, after having completed a routine 24-hour shift as a St Johns County Fire Rescue Paramedic, Pete Accorti decided to see a doctor because he had been experiencing extreme fatigue.
Over the previous month, the fatigue was becoming more intense and had begun to interfere with simple daily activities. After failing a stress test, he went to the emergency room where blood tests and a bone marrow biopsy revealed that he had the signs of a blood disorder.
Accorti was admitted to Baptist Medical Center in Downtown Jacksonville with a diagnosis of Acute Promyelocytic Leukemia (APL). He thought the fatigue was a result of recently completing a Master of Science in Nursing program, studying for board exams, and pulling additional nursing shifts at Flagler Hospital in addition to his work as a Fire Fighter Paramedic.
The doctors determined that in-patient treatment should begin immediately, so Accorti has been placed on the Oncology floor at Baptist/MD Anderson Cancer Center. He will remain in the hospital for at least six weeks while receiving aggressive daily chemotherapy.
After that time, a bone marrow biopsy will be repeated to determine his progress, and then additional treatment will be on an out-patient basis.
APL has a very good remission rate and the care he is receiving is top notch, according to his family. He is grateful for the visits from friends, especially his fire fighter brothers and sisters who love to shake up the hospital with their crazy stories.
The date when Accorti can return back to work is uncertain, but his bills are mounting every day.  The Accorti Family started a funding page where friends and supporters can contribute.  In the first day, 53 people have helped raise $3,585 towards their $50,000 goal.
Historic City News readers are encouraged to share this story with their friends on social media and contribute to Officer Accorti's fund, if possible.
Share your thoughts with our readers >>