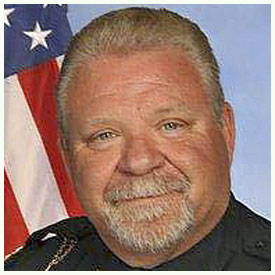 On November 12, 2016, Historic City News was advised that St Augustine Chief of Police Loran Lueders will retire from the City with 35-years of service.
Effective today, Commander Barry Fox has been named Assistant Chief. The purpose of this decision is to ensure a smooth transition over the next eight months. According to City Manager John Regan, when Lueders actually retires in November, Fox will be appointed to replace him as Chief of Police.
"As a former assistant chief myself, I understand the value of having a specific person who is number two," Lueders said. "Having a person who, along with the chief, is fully aware of every aspect of the department's operations is excellent preparation to eventually take on the responsibility of chief. That needs to happen from day one to have a seamless transition."
Under the civil service policies that govern the hiring process for the police department, the chief must be hired from within the department. If no applications are received from within the department, the city manager may request the Civil Service Board to waive the rule and allow the acceptance of applications from outside the department.
As city manager, Regan, has the responsibility of hiring all upper management personnel, including the police chief. In this case, all five qualified candidates are currently with the St. Augustine Police Department. For this position, he interviewed all of the five candidates.
"In my discussions with Commander Fox, he demonstrated an in-depth knowledge of the inner workings and challenges of the department," said Regan. "He approaches solutions with creative answers and exhibits outstanding critical thinking skills combined with extensive training and education. He has excelled in every aspect of his work and is ready for this new position."
Fox joined the department in 1993 and over the past 22 years has risen through the ranks from patrol officer to corporal, then to sergeant, and in 2009 to his current rank of Commander. Fox, a graduate of St. Joseph's Academy, received his Associate of Arts degree from St. Johns River Community College and his Bachelor of Arts degree from University of North Florida with Magna Cum Laude honors. Last year, Fox completed the FBI's Executive Development Training program in Quantico, VA, and is currently working on a Master's Degree through the University of Virginia.
Over his near quarter century of service to the St. Augustine community, Fox has worked patrol throughout the city, handled a wide range of criminal investigations, supervised special event services, and worked in every area of administrative management of the department. Recipient of numerous recognitions from the department, other law enforcement agencies, and community organizations, Fox is perhaps one of the most familiar and well know members of the department.
Share your thoughts with our readers >>