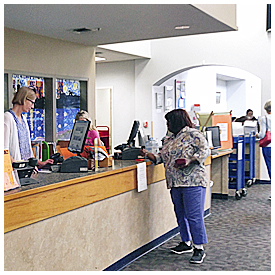 When Historic City News discovered that Hurricane Matthew had left us with uninhabitable work space in our hundred-year-old Riberia Street office building on Monday, God answered a prayer through an announcement from our local public library.
St. Johns County is making public space available this week, free of charge, at the Main Branch Library, 1960 North Ponce de Leon Boulevard to assist local businesses in need of a temporary virtual office location.
"We had to evacuate Monday because the owner of the iconic building was beginning the cleanup, which meant we had no telephone, no Internet, and no way to continue operations," editor in chief, Michael Gold, said. "I had a page-long list of emergency to-do's and none of them were going to get done if I didn't have some place to sit and work."
The Library filled a critical gap for Historic City News offering electricity, light, WiFi Internet, air conditioned office space in their public conference room, covered tables and comfortable chairs, and, very importantly, working restrooms.
Space is offered this week on a first-come-first-served basis, but business representatives needing space to conduct private meetings may contact Main Library Assistant Branch Manager Amy Ackerman at 904.827.6940 for availability.
Share your thoughts with our readers >>