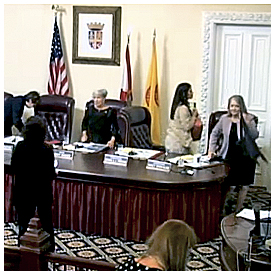 If you didn't already have enough reasons to re-elect St Augustine's mayor, Nancy Shaver, or to oust the other commissioners, you just got one more. Historic City News editor Michael Gold watched in disgust as the four commissioners stood in opposition to every citizen speaker at tonight's final budget hearing.
Only the mayor respected the citizen's pleas at the podium and dozens of citizens who sent e-mail asking that the city not approve the 2016-2017 budget as presented.
Like cockroaches fleeing the spotlight of public scrutiny, within seconds of the roll call and 4-1 vote to ratify City Manager John Regan's budget, the four commissioners responsible for approving it scrambled for the nearest exit trying to avoid the capacity crowd who were calling for their heads.
The budget approved ignores essential government spending on repaving city streets in favor of unnecessary spending on things like new draperies for the meeting room and construction of a patio and food service area on the southwest knoll at the Bridge of Lions.
Commissioner Todd Neville launched into a four-point dissertation about how nobody in the public understood what John Regan was proposing in the budget; because, after all, the public is uneducated and Neville and Regan are better qualified to make our money-spending decisions for us.
Commissioner Nancy Sikes-Kline bumbled through some rationalization that Federal, state and county road projects added to the city's under-budget plan for street repaving. No matter what the TPO, or any other planner or stakeholder spends on state or federal roads has nothing to do with long overdue repairs to city streets which none of those agencies will maintain.
Commissioner Leanna Freeman, in her own inimitable, haughty way, completely disrespected the packed house of concerned citizens assembled to show their support for Mayor Shaver's plan to budget more for street repaving. "It's nice of all of you to show up NOW," Freeman condescended to the audience.
Commissioner Horvath's brilliant contribution to the discussion was to point out that the other three commissioners had already said what she feels about the staff-drafted budget.
At 6:04 p.m., Neville made the motion to approve the budget, as presented, seconded by Sikes-Kline. Freeman and Horvath voted "yes" and only Mayor Shaver voted "no", fulfilling her obligation to serve as a representative of the people, not a rubber stamp for staff.
Share your thoughts with our readers >>