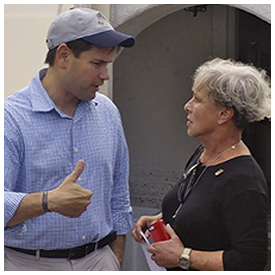 US Senator Marco Rubio announced to Historic City News today that Mayor Nancy Shaver and US Representative Ron DeSantis will jointly coordinate a comprehensive recovery assistance center in St. Augustine on Friday for residents affected by Hurricane Matthew.
This show of support on the federal level, which includes assistance from Senator Rubio's staff employees, will be held from 10:00 a.m. – 4:00 p.m. at the Willie Galimore Center located at 399 Riberia Street in St Augustine on Friday, October 21, 2016.
"Northeast Florida was hit hard by Hurricane Matthew, and many homes are severely damaged, flooded, or just completely gone," Rubio told local reporters. "I saw this devastation firsthand last week, and spoke to residents about what they need to recover from this storm."
This comprehensive recovery assistance center will serve as a one-stop shop to help those in need fully start the difficult process of putting their lives back together. On site to help residents at one central location will be representatives from organizations, private companies as well as federal, state and local agencies.
"I'm grateful to Congressman DeSantis and Mayor Shaver for joining my office in coordinating this event, and to all those in the community who will be present to share resources and provide services to the people of St. Johns County."
Follow #ReviveStAugustine for more news as the city recovers.
At this time, confirmed participating organizations include:
American Red Cross
United Way
Catholic Charities
Florida SBDC Network
U.S. Department of Housing and Urban Development (HUD)
U.S. Small Business Administration (SBA)
Federal Emergency Management Agency (FEMA)
Florida Department of Children and Families (DCF)
Florida Department of Elder Affairs
Florida Department of Economic Opportunity (DEO)
Florida Division of Emergency Management
Florida Department of Financial Services, Division of Consumer Services
St. Johns County Animal Control
People's Trust Insurance Company
CareerSource
Share your thoughts with our readers >>