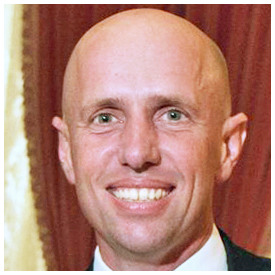 Historic City News was alerted to an e-mail between a St Augustine resident and sophomore commissioner, Todd Neville, after the commissioner responded that "we have to smooth over the mayor's continual public attacks on the project" as the reason "additional community outreach and task force meetings" had to be held, costing taxpayers more than $11,000 .
The initial phase of work on the city's first "holistic" mobility plan, as city hall insiders refer to it, has been delayed for an additional six-weeks. The contractor has missed completion points called for in their agreement and the city manager, who hired Littlejohn Engineering's Orlando office to deliver the plan, has shown no concern for the missteps.
The mayor, acting on a public promise from City Manager John Regan last year to improve the way in which St Augustine government monitors contractor compliance, in lieu of calls for a full audit of millions of dollars spent on the 450th Commemoration, says she wants to hold Regan to his word.
Mayor Nancy Shaver tells reporters that local residents are asking her for answers that she can't provide. She says that she has received questions about the project, dating back to the method Regan used in handpicking fifteen people to serve on a "Mobility Task Force" just before leaving the country on a month-long vacation to Spain.
"These 15 members represent a broad cross section of the community and include residents from across the city, several institutions and the business sector," Regan said in a May 18, 2016 statement released from the department of Public Affairs. "I've selected members who each have distinct talents and interests."
Almost immediately after the task force members were named, certain conflicts of interest were identified by citizens and the media; including the appointment of Heather Sutherland-Neville, the wife of Commissioner Todd Neville, to serve on the task force. She is the founder and owner of a non-government organization who organizes various bicycle-based races and events, and running events, that arguably have a negative impact on already overcrowded City traffic. City Manager Reagan was also a member of the Neville's running club.
Among other questions addressed to the mayor by her constituents, residents wanted to know why 40-percent of the makeup of the Task Force did not live in the City. She told Historic City News editor Michael Gold that she wasn't consulted by Regan about his choices.
Despite Commissioner Neville's characterization of the mayor's criticism of the consultant's performance; based on published letters to the editor, guest columns, and even other correspondence obtained by Historic City News from official sources, the greatest criticism thus far has been by the residents themselves.
In another e-mail initiated by Neville, this one to a sitting member of the Task Force who questioned why the commissioners, except the mayor, seemed unmoved, even unconcerned about the contractor's lack of compliance with its contract terms. Commissioner Neville admonished the appointee, who spent much of his professional career in contract consulting for global businesses and government.
Neville wrote, "To be successful, the public needs to have confidence in this process." He went on to write, "Picking it apart in public hurts that message and ultimately hurts the project." Neville closed his e-mail with a quote he attributed to Norman Dale, writing, "Team! Team! Team!"
Neville's tone and references to scenarios encountered in private business are totally inappropriate in the context of city government. State law requires accountability, openness and transparency — topics that Neville promised in campaign literature, but on which he continues to renege after getting elected. Instead of addressing the concerns of the task force member, he chose to scold him for bringing forward his concerns. Neville needs to think in terms of "Sunshine! Sunshine! Sunshine!"
Shaver rejects Neville's accusation that she is the cause of the change order from Littlejohn Engineering. "So asking for status adds cost?" Shaver responded. "I consider it to be my fiduciary responsibility to our residents."
Shaver is not alone in her concerns regarding the management of this consultant by the city manager. Susan Rathbone wrote a letter, "No transparency in selecting Mobility Task Force" on May 30th. Jay and Peggy Bliss wrote a letter to the editor, "Political taint of the Mobility Task Force" on June 3rd, and on July 27th, Steven P. Carter wrote his letter, "Contract compliance should be given more credence".
In a May 30th Guest Column titled "Mobility plan stalled from the start", also published in The St Augustine Record, Lee Geanuleas wrote about several of the problems he had already observed. Geanuleas commended the only transportation expert appointed to the Task Force, Mark Edwards, for recommending that "reducing automobile volume" be a guiding principle for the task force. The reception of Edwards' suggestion was less than welcome.
Historic City News reported May 26th, as planning got underway, that the "Mobility Task Force starts with public criticism". The following day we reported "After rocky start City Mobility Plan meetings begin in two weeks". May 27, we reported the second meeting of the controversial Mobility Advisory Task Force set for Wednesday, July 6th.
On June 30th, Historic City News uncovered another message from a different member of the Task Force, Visitor and Convention Bureau Chairman, Richard Goldman, who warns, "Mobility Task Force too heavily skewed to residents", which triggered immediate blowback from residents who feel they are the victims of lost mobility.
We also published an editorial June 8th, "Judging city administration and demanding accountability".
As a review of records already obtained by Historic City News is expanded, at least two commissioners may be implicated in a possible violation of the state's sunshine law. We are forwarding, for further investigation, documents that could substantiate the appearance of an illegal consortium between certain commissioners who may have acted in concert against the best interests of the citizens simply to impose revenge against the mayor because of the inquiries she is making. Once a determination can be reached and a public announcement of the findings can be published, we will report the final outcome of those concerns.
Share your thoughts with our readers >>