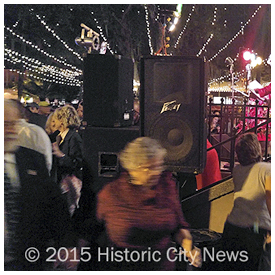 The City of St. Augustine will be a little bit darker on February 1 as the 22nd season of the Nights of Lights draws to a close.
The annual winter celebration of light started its 10-week long run on the Saturday before Thanksgiving.
"Judging by the success of the many holiday events and the comments received by visitors, the Nights of Lights has truly become a grand annual event for St. Augustine," said Paul K. Williamson, Public Affairs Director for the City of St. Augustine. "Of course, much of the credit for the Nights of Lights' success goes to the hundreds of businesses and home owners throughout the community who participate at their own expense each year."
As it has been since the beginning of the program, the city is responsible for the installation and maintenance of lighting displays on over 100 public sites, but the enormous impact of the Nights of Lights is dependent on the participation of private property owners who willingly participate in the program at their own expense.
The Nights of Lights is funded by the City of St. Augustine and the St. Johns County Tourist Development Council.
The 23rd season of the popular holiday light display will return to St. Augustine on Saturday, November 19th.
Share your thoughts with our readers >>