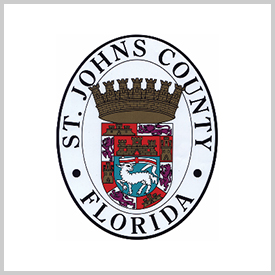 On Tuesday, November 22, 2016, during a special noon meeting, St Johns County commissioners-elect Henry Dean and Paul Waldron will be formally sworn in. The newly elected commissioners will serve in their full capacities starting with the regular meeting on December 6th.
Waldron takes over for District 3 Commissioner Bill McClure, who represents the southeast quadrant of the county.
Dean takes over for District 5 Commissioner Rachael Bennett, who represents both the City of St Augustine, City of St Augustine Beach, and much of the St. Augustine area up to International Golf Parkway.
Commissioner McClure, who was endorsed by Historic City News in 2012 in his campaign to replace Commissioner Mark Miner and defeat Miner's interim replacement Ray Quinn, said that he was proud of improvements in St Johns County since coming into office.
"We are the healthiest, wealthiest, most educated, and almost the lowest taxed people in the State of Florida," McClure told local reporters.
Commissioner Bennett, who also was endorsed by Historic City News in 2012 in her campaign to defeat (Joseph) Ken Bryan, said "It has been a privilege and an honor."
Neither commissioner decided to run for re-election.
Share your thoughts with our readers >>