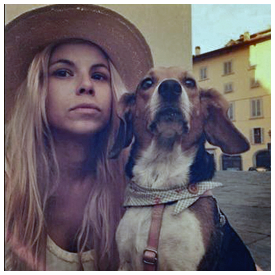 Since Historic City News first reported the homicide of former St Johns County resident Ashley Olsen, on January 9th, there has been more speculation than information coming from Italian authorities in Florence where the 35-year-old artist had been living since June 2014.
Ashley's parents, Walter and Paula, and her sister, Gabrielle, have learned little more than what has been reported in the local press; however, they have come forward to correct what they say they do know to be misconceptions about Ashley's morals, beliefs and personality.
In a letter released Tuesday, the family of St Johns County native, Ashley Ann Olsen, says statements made by the press have depicted her in a way that is "far from the truth".
According to authorities reporting to the media in Florence, Olsen had not been heard from for two or three days. Her boyfriend had the landlord open the door to her Florence apartment where her lifeless body was discovered. Prosecutors have said she was killed a day earlier by a Senegalese man she met at a disco, after a night of cocaine-use and sex followed by a fight. Olsen's beloved dog, Scout, was found outside her apartment.
The family said they are concerned with the party girl image being drawn from media reports. "Ashley would not have had consensual sex with her accused killer due to a medical problems she was suffering," the family explained. They wrote that Olsen had a severe bladder infection and was taking medication during the days leading up to her death, and would not have consented to sex with anyone due to this condition.
They also said if it's true that Olsen was under the influence of alcohol or other substances as police reported, "any type of sexual activity that she might have had that night, was not consensual. She was not the kind of girl who would have consented, willingly," the letter read.
The man accused of taking her life, Cheik Tidiane Diaw, was not an acquaintance of hers, according to the family.
Diaw acknowledged to investigators that he had pushed Olsen to the ground two times, after she pushed him in an attempt to get him to leave her apartment. According to Antonio Voce, Diaw's lawyer, he never strangled Olsen and left her alive on her bed.
The investigation is continuing.
Share your thoughts with our readers >>