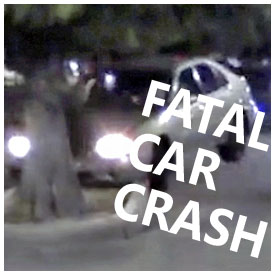 In the wee hours of Wednesday morning, Historic City News was informed of the death of the teenaged passenger in a single-car crash on SR-16, west of Masters Drive.
According to the report from the Florida Highway Patrol, 21-year-old Jesse B. Viva of St Augustine was driving a 1997 Porsche Boxter westbound on SR-16., when he apparently lost control of his vehicle and crashed into a steel fence.
The passenger, 18-year-old Harrison T. Wilker, also of St Augustine, was ejected from the vehicle when it left the road, colliding through a chain link fence, and metal sign. The vehicle overturned, coming to rest against a wooden utility pole on the westbound shoulder of the road.
Wilker died at Flagler Hospital from injuries sustained, he was not wearing his seat belt at the time of the crash. Florida Highway Patrol is still investigating the crash and charges are pending.
Share your thoughts with our readers >>