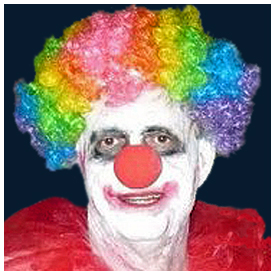 At approximately 2:42 p.m. today, Jim Troiano reported to Historic City News that a Flagler resident spotted an unknown adult man dressed as a clown and trespassing in their back yard close to their home at 20 Woodlyn Lane in Palm Coast.
Yesterday there had been reports that costumed pranksters dressed as clowns had been observed attempting to scare children, resulting in an alert from the Flagler County Sheriff's Office warning potential victims to be alert.
"Please do not dress like a clown and play jokes on others," Sheriff Jim Manfree wrote to local media outlets. "Any attempts to do so will be treated like a real threat by law enforcement."
According to today's caller, the clown was wearing all pink clothing, red wig, red nose, and red-white-and-blue shoes. He was holding two pink balloons when he was seen in the caller's backyard.
The complainant was able to get a cell phone photograph, however the clown ran into the woods when he realized what had happened. Seven deputies responded to the scene and a search of the area was completed. The clown was not located.
While on the call, deputies learned from a citizen that a clown may have been trying to scare children as they got off their school bus. Deputies escorted two buses through the neighborhood and ensured all children departed the buses safely.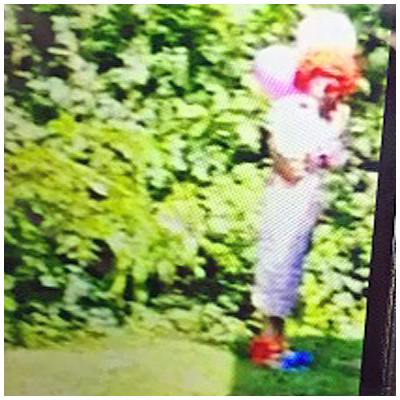 If you see suspicious activity in St Johns or Flagler Counties, contact Crime Stoppers of Northeast Florida. You can remain anonymous and may be eligible for a cash reward for information leading to an arrest and conviction by calling 1-877-277-TIPS.
Share your thoughts with our readers >>