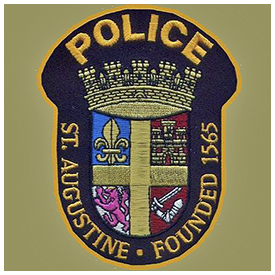 Historic City News readers have observed that The month of April was a very bad month for violent crime in the City of St Augustine and surrounding areas; however, Police Chief Loran Lueders addressed the City Commission at their regular meeting last night to provide his assessment of what he described as "anomalies".
"In a twenty-day portion of April, we had four homicides, an accidental shooting, and a shooting at a bar," Chief Lueders told the mayor and commissioners. "If there is any good news in that, all the homicides are solved and the people are in custody."
Lueders said that he has been in communication with the sheriff and chief of police in the City of St Augustine Beach and they believe there are no commonalities to these crimes at all.
Calling the timing of these violent crimes an anomaly, Lueders says, for lack of a better term, it is "coincidence" — citing that there is no certain area of town where they occurred, and no reason for law enforcement to believe that they will continue to happen at such an alarming rate.
Commissioner Todd Neville took the opportunity to question the Chief about The Giggling Gator, which Neville used as an example of a location where there are "repeat occurrences of violent crimes associated around the venue". Neville wanted the Chief to tell him the trend in law enforcement in dealing with such locations.
Lueders responded to Neville's leading question by saying, "The Giggling Gator has had a couple — but, whether or not that has any relevance to these crimes or not, I don't know that it has."
The police interact with the owners or management to do whatever they can do to help them have a more secure site for the people who go there, Lueders explained.
Mayor Shaver asked the Chief, generally, how the "temporary" extended cutoff for alcohol sales within the City has affected crime, either in this case or generally.
"Generally, if it was up to me, you would make life a lot better in St Augustine if we moved that back," Lueders replied.
Former County Commissioner Ken Bryan, who lived in the Anastasia Island gated community of Pelican Reef, led the charge to extend alcohol sales until 2:00 a.m. in the city limits. Bryan, who lost his bid for re-election to the county commission, convinced then mayor Joe Boles and members of the former commission, that extending the hours for alcohol sales beyond 1:00 a.m. would attract cultural activities and nightlife back to city and away from St Augustine Beach. Both Boles and Bryan were defeated in unsuccessful campaigns for Mayor. Bryan has sold his home and has moved to Flagler County.
The discussion ended with City Manager John Regan announcing that on May 23rd, we're going to have "extensive discussion" on noise and public safety as it relates to the hours of operation of the bar industry — "the nightlife".
Share your thoughts with our readers >>