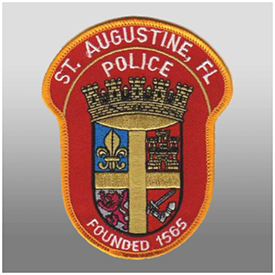 Just after 8:30 p.m. last night, Historic City News has learned that St Augustine Police patrolmen were dispatched to a reported gunshot in the area of Spring Street off Masters Drive. This afternoon the details of that encounter have been obtained.
When officers arrived, there found several juveniles in the yard at the residence. They entered the premises to find the victim, a black male, sitting on the floor bleeding from his leg. He had suffered a gunshot wound in his upper right thigh.
Police administered first aid until emergency medical personnel arrived. Rescue 41 stabilized and transported the victim to Flagler hospital. Due to the severity of the injuries sustained, the victim was flown to UF Health Jacksonville for further treatment.
Police are reporting conflicts between witnesses and the victim in recounting the events of the evening. The victim stated that he had been shot on Chapin St and was alone.
However, police interviewed a witness who stated she was sitting on the front porch of her residence when she heard gun shots, then observed a black male wearing green shorts and shirtless, running North on Spring Street. She believes he was chasing another black male. She told police that she observed the man go up to an abandoned residence at the corner of Julia Street, then running back South on Spring St about 10 minutes later.
Another witness stated that he found the victim on Spring St, north of another residence. Neighbors told police they did not hear any gunshots in that area. Police found no blood or other evidence at that location.
A credible witness led a police officer to the shotgun at an obscure location on Smith Street. The witness stated that the boys found the gun in the woods, behind a house, and took it. When they set the gun down, it accidently went off — striking the victim in the leg.
Police investigators are trying to reconcile the statements to the evidence and come up with an accurate account of last night's events.
Share your thoughts with our readers >>