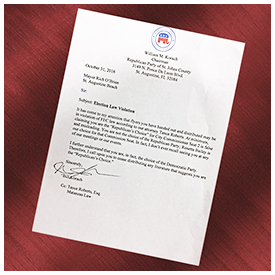 During presidential election years it is hard to miss the agenda being advanced by the each of the two major political parties. But, at least in municipal elections where the races are predominantly non-partisan, the party affiliation of a candidate has traditionally meant very little.
In fact §105.041(3) Florida Statutes makes it illegal to reference the political party affiliation of a candidate on any ballot with respect to any non-partisan office.
For some reason this election year in St Johns County both the Democrats and Republicans have chosen to impose partisan politics into local non-partisan races. It hasn't been without controversy nor has it always been peaceful.
---
Last week a candidate for a seat on the Anastasia Mosquito Control board went to the hospital with injuries sustained in a fistfight with an executive of the local Republican Party. The altercation started after a dispute over the use of a partisan "Election Guide" to make an endorsement in the non-partisan contest.
---
In another incident, a candidate for a non-partisan commission seat at the City of St Augustine Beach received an endorsement from the local Democratic Party.
On campaign literature printed and distributed, the same candidate refers to himself as the "Republican's Choice" but officially, the Republican Party of St. Johns County disagrees. In the Republican Election Guide, the candidate's opponent is endorsed.
William Korach, Chairman of the St Johns County Republican Executive Committee, sent a letter to the candidate citing the Democratic endorsement and warning him not to continue representing himself further as the choice of the Republican Party.
A copy of the cease and desist letter was copied to Matanzas Law attorney, Tance Roberts. Ultimately, the candidate himself is responsible for the content of his own political advertising.
---
Another political tactic employed by operatives within the major political parties is the use of electioneering committees formed specifically to aid the campaign of one favored candidate over the other. Typically operated by well-funded political action committees or a "Super-PAC", the electioneering communications do not require candidate approval and the individual contributions and expenditures enjoy expanded limits and generous anonymity.
This year's race for mayor of the City of St Augustine was the first time recorded where an anonymous out-of-town electioneering syndicate attacked a local, sitting elected official with a sensationalized, overstated direct mail smear campaign in a non-partisan election.
Share your thoughts with our readers >>