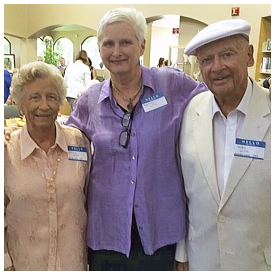 The Enterprising Women's Leadership Institute, Inc. reported to Historic City News that they will hold their annual recognition for women leaders in St. Johns County on Tuesday, March 8th, 5:00 p.m. at Marsh Creek Country Club during the International Women's Day Celebration.
Cumulatively, the successor organization to The Women's Business Development Center has recognized hundreds of local women leaders from St. Johns County and surrounding communities who have gone above and beyond – making a difference to the lives of others.
"We recognize that leadership for women is often overlooked – especially quiet leadership when women do what needs to be done without public recognition," says Dr. Marilyn Wiles, founder and Board Chair.
Keynote speaker for this year's program, "EWLI Will STEAM Ahead in 2016," is Michelle A. Barth, FEEDING Northeast Florida. She will focus on the real need for both younger women and women currently in the workforce to focus more on the skills and opportunities in careers: science, technology, engineering, arts, and mathematics.
"This year promises to be exciting and motivational as we recognize 5 women leaders from our community and 4 young women leaders from our high schools," states Secretary, Betty Frederick.
This year's Women Making a Difference include:
ANNETTE DANIELSON

Annette is Founder and Executive Director of the St. Augustine Community School of Performing Arts (SACSPA). She taught piano lessons at University of Virginia and Virginia Commonwealth from 1982-1996. In 1998, she suffered a Traumatic Brain Injury losing both short and long term memory and suffering paralysis. In 2000 her neurologist excused her care stating she had reached full basic recovery. At that point she was not able to comprehend a paragraph or read music! She has steadily recovered proving we should never give up! St. Augustine Community School of Performing Arts (SACSPA) has been built to help everyone improve their skills as we seek to "find and nurture the spirit of creativity and talent that lives within everyone."
BRIGADIER GENERAL VALERIA GONZALEZ-KERR

Valeria is Assistant Adjutant General-Support for the Florida Army National Guard. She has responsibilities in support programs: Force Protection, Community Outreach, Sexual Assault Response Coordination, Equal Opportunity, Education Programs, Resilience Programs, etc. She began her career in 1984 as a 2nd Lt in the Reserve Officer Training Corps. She has served many leadership positions in the US Army. Her career in the Florida National Guard began in 1990 where she held many command and staff positions. She deployed to Iraq in 2007. Her military decorations in include: Legion of Merit; Bronze Star; Meritorious Service Medal – 3 oak leaf clusters; Army Commendation Medal – 4 oak leaf clusters, & Florida Meritorious Service Ribbon, etc. She and her family reside in St. Johns, Florida.
KATHLEEN MARQUIS

Kathy, an Army brat, grew up all over the world! In 2000, her family (son and husband of 37 years) moved to St Augustine. Following her retirement from a successful teaching career, she worked at the FSDB, after- school program at Cathedral Parish School and St. Joseph Academy. Her passion: volunteering: Civil Rights Tours, National Guard Headquarters, St. Vincent de Paul Client Services, founding member of Tag! Children's Museum also Alpha Delta Kappa Education Sorority, Garden Club, Women's Exchange, Associate – Sisters of St. Joseph, Treasurer – King's Daughters, Madonna Day School -Mentally Handicapped, Docent – Cummer Art Gallery, Feeding the Poor at Granada and Bridge, etc. She is a breast cancer survivor.
ANNETTE WILES

Annette, one of the first female graduates of FSU, began her career at the State Welfare Department offices in Flagler & St Johns Counties. She made it her job to reach out to troubled families making personal visits, focusing on the children. She worked with Association for Retarded Citizens. She was a social worker at the Florida School for the Blind where she focused on the family not the institution. After retiring in 1984, she served as a volunteer Florida's first Guardian ad Litem, bringing compassion and support to failing families & their children. Her volunteer service includes: Jr. Service League, AAUW, Women's Exchange, FSU Emeritus Society, Deacon – Memorial Presbyterian, etc. As wife, mother, grandmother and great grandmother, she is a role model to others.
CAROL WILLIAMS

When Carol first moved to St Augustine, she didn't have a job and began raising funds and working with others to start the Betty Griffin House. After receiving her teaching degree, she began running the Computer Lab at Hastings Elementary & later at South Woods. She became aware of the poverty of many children's families. Her students were hungry. A friend told her about a weekend feeding program in Ocala and that started her taking steps to create Food 4 Kids at South Woods. Six years later, through the generous spirit of church members at Memorial Presbyterian and the community, 250 children receive needed food a week. Food 4 Kids has led to a mentoring program, Mentor 4 Kids, and 188 students received gifts during the Christmas 4 Kids Program, which Carol Co-Chairs.
The Young Women Leaders Award is given annually to outstanding St Johns County high school seniors nominated by their guidance counselors to receive both recognition and scholarship assistance. The award is presented in memory Barrie Higgins, a founding member, who was dedicated to recognizing and promoting young women in leadership.
JORDYN M ALLEN, Bartram Trail High School
Jordyn uses her creative talents and excellent communication style to reach out to others and make a positive difference. Fashion Academy, Band, Football Manager, Clark Claris Corp Researcher, USA Girl Scout Overseas Committee, Assistant Coordinator, USO volunteer
GRAYSON DELONG, Blind High School/FSDB
Outstanding individual, exceptional student, dedicated student both in academic and extracurricular pursuits; 3.9 GPA, 2015 Sunshine State Scholar Recipient (prestigious award for students interested in STEM careers; 255 hours of community service.
CYNTHIA HUND, St. Joseph Academy
She has a dedication to projects; reliable; leads by example; genuine; Principal's Honor Roll; National Honor Society secretary, Mu Alpha Theta (math); Science National Honor Society; President Anchor club; Youth Leadership Jacksonville, mission trip to Dominican Republic.
ELLIE LEACH, St Johns County Home School
Ellie has been active in 4-H for 11 years in leadership, horticulture, public speaking, food preparation, community service, and marine ecology; First Coast Technical College School of Culinary Arts grad; 450th St. Augustine Youth Ambassadors; St. Augustine/Aviles Student Exchange; church volunteer.
Share your thoughts with our readers >>