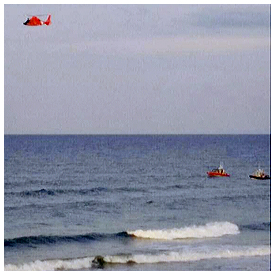 Historic City News was notified by St Johns County Fire Rescue Sunday evening that their efforts to locate and rescue an ocean swimmer last seen in the 1600 block of Ponte Vedra Boulevard in Ponte Vedra Beach, will resume tomorrow as a recovery operation.
The missing swimmer is presumed drowned as of sunset on Sunday evening, according to Fire Rescue personnel.
"Unfortunately the swimmer was not located during this afternoon's search by the multiple agencies who responded," Jeremy Robshaw told local reporters. "Law enforcement agencies will conduct periodic land based patrols throughout the night Sunday, and several agencies will continue the search and recovery efforts at daybreak on Monday."
In addition to St Johns County Fire Rescue, other agencies who participated in Sunday afternoon's operations included St Johns County Sheriff's Office, US Coast Guard, LifeFlight, Florida's Fish and Wildlife Commission, and a mutual aid response from Jacksonville Beach Ocean Rescue.
Share your thoughts with our readers >>