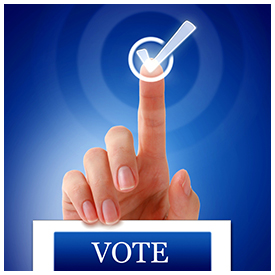 St Johns County Supervisor of Elections, Vicky Oakes, reminds Historic City News readers to make their vote count on Election Day, Tuesday November 8, 2016.
For questions about voting in St Johns County, information is available on the Election Office website www.votesjc.com or by calling 904.823.2238.
"Over 33,500 absentee ballots have been mailed to St. Johns County voters for the 2016 General Election," Oakes told local reporters. "Approximately 13,000 voters still have their vote by mail ballots in hand."
If you still are holding your absentee ballot, you must mail it no later than Thursday to be sure it reaches the Elections Office by 7:00 p.m. on Election Day, November 8th; because, if your ballot is late, it will not be counted.
Other options to voters:
Red "vote by mail" drop boxes are available at all public libraries, St. Aug. Beach City Hall and the Ponte Vedra & Julington Creek Tax Offices during their regular business hours through November 8th at 5:00 p.m.
During "early voting" hours, you may return your voted ballot to any of the seven early voting sites.
There is a 24-hour "vote by mail" drop box located in front of the Supervisor of Elections Office.
Even if you received your ballot in the mail, you may still choose to vote in person during early voting; or, at your precinct on Election Day.
Early voting continues from 8:00 a.m. until 6:00 p.m. daily through November 5th at all seven locations:
Julington Creek Annex
Ponte Vedra Branch Library
Supervisor of Elections Office
Augustine Beach City Hall
Southeast Branch Library
Watson Realty-St. Johns
Hastings Town Hall
Share your thoughts with our readers >>