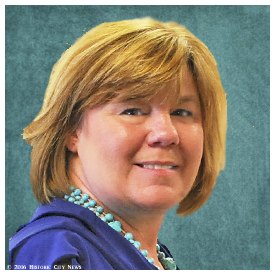 North Davis Shores resident Susan W. Rathbone officially made her bid for a seat on the St Augustine City Commission Monday afternoon, telling Historic City News reporters that residents and local businesses are ready for improvements in the way the city and its commissioners communicate with each other.
Rathbone, who is 53-years-old, was raised an Army brat, she says she moved every year and was in 14 different schools. She did have ties to the area, though. Her grandmother had a fish camp and marina in Jacksonville's Riverside where she would come for summer vacations. She attended 8th grade in Ponte Vedra Beach and graduated high school from The Boles School.
Over thirty-three years ago she moved to historic St. Augustine where her father was working as an attorney in the office of the Public Defender. For six years she helped the Gonzmart family during the opening years of the Columbia Restaurant.
"We didn't face a fraction of the challenges we do today," Rathbone said, comparing the 1980's Spanish Quarter to what we currently have downtown. "I have seen the pendulum swing to an extreme. We have long past a healthy balance. Now, business needs have overtaken the needs of our residents."
She told Historic City News editor Michael Gold that she returned to school, earning her undergraduate degree from University of North Florida and a Master of Arts degree in Educational Leadership from San Diego State University.
Rathbone made her career in education. She has held several administrative and teaching credentials. She was employed as an area support coordinator for the Charlotte Mecklenburg School District in Charlotte, North Carolina when her father became ill and she returned to St Augustine for good. She was employed as a third and fourth grade teacher in Ponte Vedra Beach for the Saint Johns County School District until 2012. She has been a full-time caregiver for her father ever since.
Her opponent, St Augustine Commissioner Leanna S. A. Freeman, has declared that she will seek a third, four-year term. "What would any incumbent think that they could accomplish in twelve years that they weren't able to accomplish in eight?" Rathbone asked; confessing that she feels commissioners should consider term limits to prevent them from becoming ineffective.
"Traffic congestion and parking have created an unstable situation for our city. Deferred maintenance of our crucial infrastructure has reached a turning point," Rathbone said. "This did not happen overnight. Because many of our problems occurred under their watch, I do not have confidence in the current commission to handle these issues now."
Share your thoughts with our readers >>