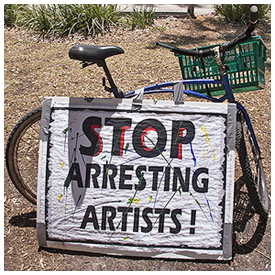 Historic City News will be watching as the plaintiffs in Bates, et al vs. City of St Augustine come before a court appointed mediator in Jacksonville tomorrow afternoon, to see if it is possible for the city's artists to return to their craft in public places around town.
Tomorrow's mediation is at 1:30 p.m. at the mediator's office and the artists say that they are "cautiously optimistic".
"We hope we will be offered a fair opportunity to have our civil rights fully restored," Bruce Bates, the lead plaintiff told Historic City News editor Michael Gold Thursday.
If the mediation is not successful, the plaintiffs say it may be necessary to move forward with the full trial on July 3, 2017.
The City of St Augustine has been on the losing-end of its vendetta against artists since Bill Harriss was city manager. City taxpayers have paid tens of thousands of dollars in outside legal fees and hours of former city attorney Ronald W. Brown's time fighting the artists, and losing in Federal Court in the face of the plaintiff's Constitutional right of free expression in public places.
Following Judge Howard's ruling and injunction against the City seven years ago, the City was ordered to restore the First Amendment rights of "Painters, Photographers, Sculptors and Printers" to create and sell their art in public. The City agreed to make the "temporary" injunction "permanent" under the existing unconstitutional ordinance adopted by Leanna Freeman, Nancy Sikes-Kline, Don Crichlow, Errol Jones, and mayor Joe Boles.
Soon after, the city manager, aided by the city attorney, figured out that if the commission would agree to throw out the original ordinance all together, any settlement agreement with the artists regarding their constitutionally protected activity would be moot; which is exactly what they did.
Prior to a jury trial, should the mediation fail, it is likely that hundreds of downtown business owners, present and former city staffers, including police, management, and commissioners, will be subjected to mandatory depositions, under oath, in an effort to prosecute those responsible for their illegal actions.
The City of St Augustine may accede to the mediator's ruling and could be compelled to pay court costs, attorney's fees, and a healthy civil fine to the named plaintiffs.
Historic City News will update this article as we learn new information from the mediation session tomorrow.
---
REFERENCE VIDEOS: Here are a few brief YouTube videos that remind us of how employees and elected officials of the City of St. Augustine have treated its artists over the past seven years:
Share your thoughts with our readers >>