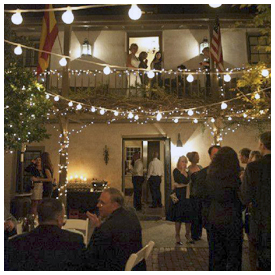 With challengers for each of the three city commission seats up for election in St Augustine this year, Historic City News finds the discussion on issues most important to residents are growing louder.
While Mayor Nancy Shaver was away on a planned vacation with her daughter, the vice-mayor and commissioners took the opportunity, without public comment, to act on a poorly constructed questionnaire of existing special events venues, and twice-botched public notification process.  The urgency of the action, exacerbated by potentially poor legal advice from the city attorney, and faint apology from the director of the Planning and Building Department, was not clear.
"There's likely no debate that holding an event, like a wedding or anniversary celebration, almost anywhere in St. Augustine is more interesting that most anywhere in other cities," Paul Williamson told local Historic City News reporters today in a press release announcing Monday's actions.  "The charm of the historic downtown provides a backdrop that enhances any special event, a fact that has been embraced by a growing number of residents and visitors alike in recent years."
Residents have generated complaints to city officials for more than two years as they have suffered the consequences of rapidly growing special event activity; leading to enactment in December of a new ordinance governing the use of venues that host such events.
The good news is that the ordinance established regulations governing activity at a special event venue, including requirements that temporary equipment such as tents and fencing be removed within 48 hours of the event, that traffic generated may not obstruct the right-of-way, that the need for parking be met, occupancy limitations determined by the fire marshal or building official be adhered to, that if the venue is historical it be protected, a prohibition of pyrotechnics, and limitations on hours if the venue is located in a residential area.
Special events held in non-traditional venues have become a very vibrant part of the city's economy.  And, of course, it is not just the rental fees at issue — weddings and the like support a number of cottage industries including wedding photographers, videographers, disk jockeys who provide music, and caterers required because most residential kitchens are too small to support their events.
Now the bad news.  The ordinance allowed a period of time during which businesses which were already hosting special events could submit an application, designed by the city, and, if approved, they could continue doing so — presumably with no increase in impact on the neighborhoods where they now do business, but that point is not clear.
The survey sent to those known to operate "special event venues" was poorly worded and incomplete, but defended by city attorney Isabelle Lopez in the meeting Monday May 9th.
It was clear that the questions were not clear.  When asked about the size of events at the venues, some provided the maximum occupancy according to the fire marshal rather than the average size of events actually hosted.  Although the questionnaire asked about the size of the special events, it failed to ask the frequency; an obvious concern of nearby residents not contemplated in the drafting of the ordinance.  Oops, Isabelle — it matters whether or not your neighbor is having an extra couple of hundred guests once a month or once a week.
The two applicable ordinances adopted in December are:
Ordinance 2015-02 defines Special Event Venues
Ordinance 2015-32 provides a one-time 90-day period for special event venues that legally existed on December 14, 2015 to apply for vesting.
During the May 9th City Commission meeting, fifteen businesses were approved as having filed the appropriate paperwork, and thus are determined to be vested and may continue as special event venues.
Nine are bed and breakfast establishments and six are museums.
79 Cedar Street – Cedar House Inn (Bed and Breakfast) 2-20 guests
83 Cedar Street – Penny Farthing Inn (Bed and Breakfast) 20 guests
87 Cedar Street – Peace and Plenty Inn (Bed and Breakfast) 50 guests
89 Cedar Street – At Journey's End (Bed and Breakfast) 10-30 guests
21 Aviles Street – Casa de Solano (Bed and Breakfast) 30 guests
38 Cordova Street – The Old Powder House Inn (Bed and Breakfast) 20 guests
34 Saragossa Street – The Saragossa Inn (Bed and Breakfast) 20 guests
60, 66 and 70 Cuna Street – Carriage Way (Bed and Breakfast) 25 guests
142 Avenida Menendez – Bayfront Marin House Inn (Bed and Breakfast) 60 guests
83 King Street – Villa Zorayda Museum, 150 guests
20 Aviles Street – Ximenez-Fatio House Museum, 250 guests (per Fire Marshall)
48 King Street – Government House Museum, 120+ guests
22 Marine Street – The St. Augustine Art Museum, 384 guests
259 San Marco Avenue – Old Florida Museum, 130-226 guests
14 18, 22, 31 St. Francis Street, 271 Charlotte Street, parking lot at corner of Charlotte Street and St. Francis Street – Oldest House Museum and Llambias House (this to be a determination from the zoning code, not the special events venue ordinance).
Share your thoughts with our readers >>