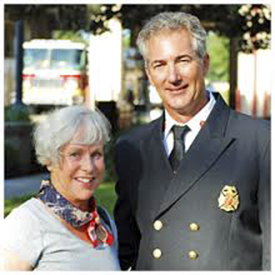 Fire Chief James "JC" Costeira has announced his retirement from the St. Augustine Fire Department. He is a twenty-nine and a half year veteran of the department.
Costeira joined the department in 1987 and rose through the ranks serving as a firefighter, was promoted to lieutenant in 2000 and then to captain in 2008 before being appointed to the position of chief in February 2014. His retirement will be effective August 31.
"It has been an honor to serve the St. Augustine community as a firefighter, and to have worked with some of the finest people I have ever known," said Costeira. "Each and every day for nearly three decades, I have seen the men and women of the department do their best to protect our city. I now look forward to spending more time with my family and friends."
Costeira grew up in St. Augustine and finished high school at St. Joseph's Academy. He is the son of James Costeira, who served the city as a commissioner in the late 1980s.
Just three months prior to being named chief, the St. Augustine Fire Department received an Class 2 rating from the Public Protect Classification (PPC) issued by the Insurance Services Office (ISO), a rating that most insurers use for underwriting and calculating premiums for residential, commercial and industrial properties. During his tenure as chief, Costeira, and the department under his leadership, have worked diligently to maintain the Class 2 rating and strive to move the city's rating to a Class 1.
To put this classification in perspective, of the 47,000 fire departments in the nation, a Class 2 rating places the St. Augustine Fire Department among the top 1.3% departments in the nation.
The responsibility of hiring all upper management personnel, including the fire chief and police chief, rests with the city manager. With news of the announcement he began the process of naming a new chief as quickly as the process allows and to ensure a smooth transition over the next few weeks. He must first consider applicants from within the department. If no qualified applicants are found within the department, he may request the Civil Service Board to waive the rule and allow the acceptance of applications from outside the department.
Share your thoughts with our readers >>