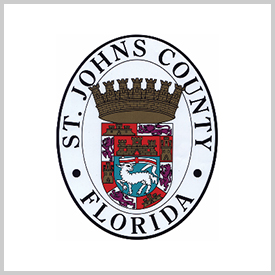 Chief Planner Danielle Handy for the St Johns County Planning and Zoning Division reported to Historic City News that the Steeplechase Comprehensive Plan Amendment was removed this afternoon from the 7/21/2016 Planning and Zoning and 9/6/2016 Board of County Commissioners hearing agendas.
Local Rogers Towers, P.A. shareholder, Ellen Avery-Smith, clarified that the reason for delaying the hearings is due to the St Johns County School District's concerns about eliminating the Scaff Road connection to Pacetti Road for the high school site.
Avery-Smith's client, developer D.R. Horton, is apparently using the time to work with the School District to try to address these concerns.
Handy reported that once hearing dates have been re-established for (COMPAMD 2015-06 Steeplechase), new public hearing notices will be sent out.
Share your thoughts with our readers >>