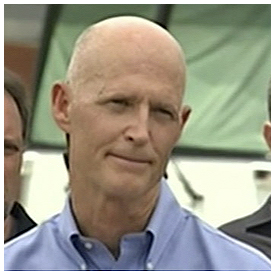 Historic City News has received the 11:00 a.m. update from the National Weather Service on Hurricane Matthew; currently the eye of the storm is passing over Nassau in the Bahamas where coconuts have been seen propelled by 140 mph wind gusts like cannonballs, damaging vehicles and buildings.
Governor Rick Scott is expected in St Augustine at the St Johns County Emergency Operations Center later today. In a live press update this morning, Scott urged evacuation from all east coast residential areas.
West Palm Beach – Port St Lucie – Vero Beach are expected to be the points where the Category 4 hurricane makes landfall tonight. Scott said 11.7 million Floridians are under hurricane warnings.
Scott has activated 2,500 Florida National Guard men and women who are working on evacuation and sheltering. The governor reported that 4,000 more guardsmen are on standby if needed.
Current sustained wind speed at the eyewall of the storm is estimated at 140 mph; moving northwest at 14 mph.
It has been seventeen years (1999) since northeast Florida has experienced a storm of this magnitude. Governor Scott is warning that he has spoken to Florida Power and Light and they are expecting millions will be without power for several days along the coast.
We are expecting that Matthew will reach Daytona Beach about 8:00 a.m. Friday morning and Jacksonville about 7:00 p.m. Friday.
Share your thoughts with our readers >>