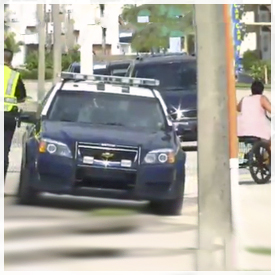 Ja Jules Williams' mother, Bunny, is traveling to St Augustine tonight to say goodbye to her 16-year-old son. She told Historic City News that she wants local people to know what a wonderful life Jay lived, and what a wonderful son he was.
Police spokesman Mark Samson reported that Williams was attempting to cross the busy four-lane highway at the Kangaroo convenience store located at 511 Anastasia Boulevard, just after 8:00 a.m., when he, and the skateboard he was riding, were struck by a small-sized white SUV.
Williams, who attended St Augustine High School, was taken to Flagler Hospital with critical injuries and later died, police said.
The driver of the SUV stopped and is cooperating with traffic homicide investigators. He told police he did not see Williams until the teen was right in front of his vehicle. Speed is not a factor in the crash, police said.
Share your thoughts with our readers >>