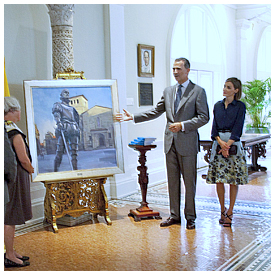 Historic City News has learned that St Augustine City Hall and the Lightner Museum have active termite infestation and that attempts to spot treat the wood in the 128-year-old building have failed; leading to damage of the building and its historic contents as well as exposing holes in the floor.
In a televised report broadcast by First Coast News in Jacksonville, reporter Jessica Clark announced that the entire structure, more than a half-city-block in size, will need to be tented.
"We do need to tent the building, and we're working on how to afford that because it's a project that would be somewhere north of $250,000," City Manager John Regan said in the interview.
For now, Regan said that staff will continue to do "spot treatments" for the termites and place traffic cones to cover up the holes in the floor.
The original Alcazar Hotel built by Henry M Flagler in 1888, was purchased by Otto Lightner to house his Gilded Age collection of ephemera. Because of unclear language in the deed given at the time of Lightner's death, depending on who you ask, the Museum owns the building and provides the space managed by the City of St Augustine, or, the City owns the building and the Museum is the rent-free tenant.
Regardless, the Lightner Museum, operated by the benefactor's non-profit foundation, has no better prospects than the City for immediately performing the termite prevention treatment.
"This shows the urgency of the situation," said Bob Harper, Director of the Lightner Museum, as he pointed to a grand wooden desk. "This is a piece of furniture that belonged to a king. It's one of the most iconic pieces in our collection. We have found evidence of termites in this piece. We are monitoring it and we're trying to control it on an individual basis."
The Lightner Museum is chock-full of collectibles, art, and antiques, which termites find appetizing. Harper admitted that termites are something you have to deal with in Florida, but said the situation at the building is not getting any better as time goes by; pointing out the wood floors in the museum that are showing damage and holes.
A local pest control company who has not been contacted to bid on the work told Historic City News today that the only way termite treatment can be bonded (insured) is if you treat the entire structure at the same time. "You can't divide the baby," we were told, because there is no way to be sure that the wood-boring termites would not simply migrate to the other side of the iconic building. So, one way or another, the City and the Museum are going to have to find a way to pay the cost or risk continued deterioration of one of the city's best known Flagler-era landmarks.
Share your thoughts with our readers >>