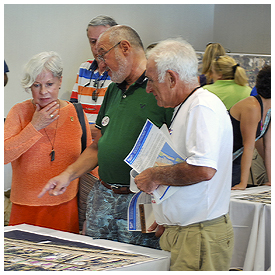 Northeast Florida Public Information Officer, Ron Tittle, informed local Historic City News reporters that District Two of the Florida Department of Transportation is prepared for tropical weather throughout the Northeast Florida area this week.
Maintaining existing roads is essential as the storm approaches. Staff and maintenance contractors are on standby and will be adjusting schedules as necessary. Drainage structures are readied by removing debris from rights-of-way and along roadways.
Safety is the top priority as construction projects are secured by locking down equipment and traffic control devices. Florida Department of Transportation requires construction project contractors to have a hurricane plan. Maintenance contractors regularly patrol the state roadway system in and around our area to assist in identifying potential hazards or negative impacts to travel. Road Rangers patrol the Interstates for incident management and to help keep the main roadways clear as much as possible.
The Regional Transportation Management Center in Jacksonville monitors major corridors continuously through the Intelligent Transportation System that enables operations personnel, law enforcement and information partners to coordinate actions and information in a more timely and efficient manner. FDOT works closely with the Governor's Office and the State Emergency Operations Center before, during and after the storm.
Following the storm, FDOT and its contractors conduct damage inspections, clear and reopen roads, as well as document all activities for possible federal reimbursement.
Residents should monitor local radio and TV stations for the latest details on evacuations and communicate with separated family through online media like Historic City News. All zones may not need evacuation. Excess evacuations may create more traffic congestion.
FDOT encourages motorists to use FL511 for the latest incident details on Interstates. The FL511 app is available to monitor traffic. Know before you go by using the FL511 system. There are five convenient ways for all motorists to receive traffic updates:
Download the free Florida 511 mobile app available on Google Play or Apple App Store.
Call 511 toll free for updates in English and Spanish.
Visit FL511.com for interactive roadway maps showing traffic congestion and crashes, travel times and traffic camera views.
Sign up for a "My Florida 511" account at FL511.com to create custom routes and register for email, text or phone alerts.
Follow one of the 13 statewide, regional or roadway-specific Twitter feeds (#FL511)
Share your thoughts with our readers >>