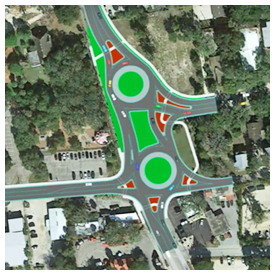 Historic City News reporters spoke with Mayor Nancy Shaver and others who attended last night's well-attended presentation by the Florida Department of Transportation. Although the state says that they have settled on "Alternative 5" for the intersection of May Street and San Marco Avenue, continuing changes seem to indicate that certain aspects of the project may remain fluid right up until construction commences.
In addition to the city's mayor, other city officials and staff attended, but now that the city has closed on the sale of the former proposed 7-Eleven site to FDOT for about $300,000 less than they paid for it, the city's role in the decision-making has become secondary to that of the state. San Marco Ave is State Road 5 Alternate, and a component of State Road A-1-A south of May Street.
"We're glad when we can reach a solution that (improves traffic) and is accepted by the community," FDOT administrator Jim Knight was quoted in an interview with Stuart Korfhage. "When you build a strong consensus, it's easier to get a project moving in the right direction."
In additional to re-routing traffic through the primary May Street intersection with San Marco Avenue, current plans include an all-inclusive look at secondary intersections with San Carlos, which dog-legs across San Marco Avenue and connects with the major highway, US-1, as well as consideration of data learned about traffic light timing.
New discussions include a look at the impact of the St Johns County main public library building and its parking lots. Costs and traffic impact for two curb cuts directly on US-1 are being considered as an alternative to access from San Carlos.
During the St Augustine City Commission meeting Monday night, County Project Manager Kevin Wiseman reported that, as far as San Carlos is concerned, the city, county, and state are all in agreement that the narrow street no longer works as the main entranceway to the library.
Most people who spoke at the meeting voiced support for the project but had questions about the construction process. No complete intersection closures are planned during the work. Knight also promised that vehicular traffic will not be detoured through any of the surrounding neighborhoods.
Plans have been more than a year in the making, but construction is now scheduled to start in the summer of 2017 on the $3.5 million project. It will take close to two years to complete, according to Knight.
Share your thoughts with our readers >>