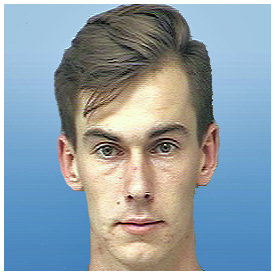 Historic City News learned today that a 21-year-old St Augustine Beach man and his 25-year-old accomplice were arrested on charges related to burglary of a motor vehicle in Ponte Vedra Beach.
The arresting officer, Deputy Rafael Fuentes, reported that he responded to 6557 Burnham Circle and spoke with the vehicle owner about a possible burglary to his white Nissan Murano while it was parked in the front driveway of his home.
The owner told Deputy Fuentes that he checked his car and was surprised to find it unlocked. Further checking led the owner to discover that his wallet was missing from the center console. He also stated that his cell phone charger was taken from the compartment located in the lower dashboard.
Deputy Fuentes took DNA swabs from the driver's side door handle, passenger side door handle and the center console, as well as a DNA sample from the owner for elimination, and submitted all samples into evidence.
Armed with the description of the missing property, Fuentes and the victim went to the Northeast field office because officers there believed that the off-going shift had possibly located some of the victim's belongings.
Sergeant Lawing and Detective Garns retrieved several items that the victim identified as being those stolen from his car.
The detective had Fitzgerald and Esposito at the field office at that time. They were being questioned about their suspected involvement in several vehicle burglaries in the area.
According to the arrest affidavit, Ryan Fitzgerald unlawfully entered a white 2009 Nissan Murano located on the property of the victim at Burnham Circle in Ponte Vedra Beach without the knowledge of the owner. When contacted by the arresting officer, Fitzgerald was found to be in possession of multiple items belonging to the victim.
One of the items in Fitzgerald's possession was the victim's American Express credit card, used by Fitzgerald without the owner's permission to obtain goods and services of a value less than $100.00 at the Shell gas station and store located at 195 Corridor Road.
Ryan Thomas Fitzgerald was charged with three-counts of burglary of an unoccupied motor vehicle, each count is a third-degree felony, and, one count of fraudulent use of a credit card to obtain goods, services, or money less than $100, a first-degree misdemeanor.
When Fitzgerald arrived at the St Johns County Detention Facility, officers located an outstanding St Johns County warrant charging two counts of violation of probation. Those charges prevent Fitzgerald from making bail or being released from custody.
John Stanley Esposito is charged with three-counts of burglary of an unoccupied motor vehicle and two-counts of grand theft. All charges are third-degree felonies. He remains in custody this evening in lieu of $12,500.00 bond.
Share your thoughts with our readers >>