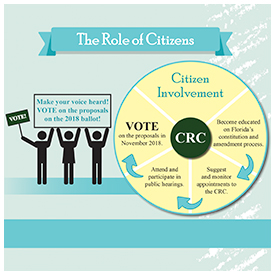 Will a Historic City News reader be one of the 36 Florida citizens who join Attorney General Pam Bondi to serve on Florida's Constitution Revision Commission; an honor that comes around only once every twenty years? In fact, the 2017-2018 Constitution Revision Commission will only be the third of its kind in state history.
The members of the 2017-2018 Constitution Revision Commission will be selected 30 days before the start of the 2017 Legislative Session. The commission will begin its work upon the conclusion of the 2017 session.
Potential Constitution Revision Commission members can apply through these offices:
Florida Speaker of the House
The Constitution Revision Commission reviews the state constitution and proposes changes for voter consideration. The is one of five ways that Floridians can amend the state constitution.
The commission will hold public hearings throughout the state where citizens can attend, share ideas and feedback on potential proposals for the ballot.
After gathering public input, the commission will recommend proposals for the 2018 ballot. The proposals will be placed on the ballot and voters will ultimately decide what passes. Proposals require 60 percent of the vote to pass.
Anticipated Timeline of the 2017-2018 Constitution Revision Commission:
February 2017: Constitution Revision Commission named
2017 Legislative Session: Appropriations for Commission's work
April 2017: Constitution Revision Commission begins work
November 2018: Citizens vote on proposals
Share your thoughts with our readers >>