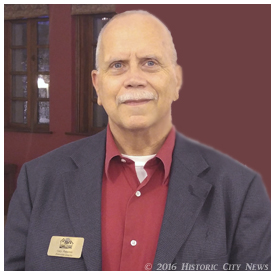 Historic City News spoke with Gary Peterson who has been executive director of Home Again St Johns for less than a year — a position he accepted knowing the local non-profit has spent over eight years trying to transform hopes and dreams into realities on its mission to provide our homeless population the dignity and care they deserve to get their lives back together.
In February 2012, our editor attended a ceremony at three modular buildings stationed at the entrance to an approximately 13.5-acre property on SR-207 owned by the Salvation Army. At that time, then HASJ president Mike Davis announced that the site selection committee had negotiated a long-term nominal fee lease; reported to be a thirty-year term at $1 per year.
Four years later, little tangible has changed at the site. But Friday, with many of the same fifty-or-so supporters attending, and artist's renderings on display, Peterson led a ceremony they are calling a "groundbreaking" at the site where a major homeless services center is planned.
Peterson explained that Home Again hopes to act as a coordinator and facilitator for other social services agencies, law enforcement and the stakeholders who actually administer the supportive treatment services in mental and physical health, substance abuse, education, housing and employment.
The estimated $10 million project calls for a medical center, kitchen, job services, and buildings with a total of 100 dwelling units, a bus stop and other features. Lofty goals for a group who has a conditional commitment from St Johns County for up to $112,500 and something less than $200,000 to show for their own actual fundraising.
One participant who attended the last ceremony when he was still assistant county administrator and is now a candidate for a seat on the Board of County Commissioners, made remarks concerning his own observations about the project, so far.
"My first meeting was nearly 10-years ago, before Home Again had a name, and it's been frustrating at times, but we've made great progress," Jerry Cameron said. "Food and temporary shelter are important, but not the answer to the problem. Helping fellow human beings to gain a sense of self-worth and dignity is the answer."
Cameron said that today is an important milestone, but he was one of the leaders in county government who has followed what progress has been made by organization, and his optimism has been guarded.
Last year, the county put a "hold" on funding for the project because of questions over its spending plan. It was not clear how Home Again's plans to hire more staff would translate into services for the homeless, Cameron observed. The group responded by choosing a new executive director, changing the director of development, and altering how county funding would be used.
How quickly the project is finished depends on the success of its continued fundraising efforts. Building construction is not yet funded. The site is in place and almost ready. The design plans are in the works, but not complete. In April of last year, the county commission did approve development plans for the property, but the approximately $300,000 in commitments received will go quickly on a project with a $10 million price tag.
Share your thoughts with our readers >>