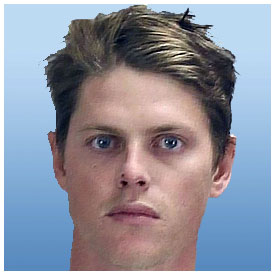 An emergency 9-1-1 operator received a shocking call early Tuesday morning from a 35-year-old St Johns County man who had gone to a room at the Super 8 Motel, located at SR-16 and I­95, supposedly to meet a female escort advertising on an Internet classified website, like Back Page or Craig's List.
The victim reported that he arrived at the motel to find two females inside the agreed room. He went inside the room with the women, but was interrupted a short time later by a knock on the door.
One of the escorts, identified by sheriff's investigators as 29-year-old Rhiannon Lee Hart, who resides at 270 Cervantes Street in St Augustine, unlocked the door.
A 25-year-old Ponte Vedra Beach man, identified as Charles McFerrin Quick, who resides at 39 Jefferson Avenue, entered the room armed with a rifle. Quick allegedly kicked the victim, knocking him to the floor. Aided by Hart, Quick reportedly took cocaine and $350 in cash from the victim and then fled the scene.
Later in the day Tuesday, detectives identified the second female escort and located her in Jacksonville. During an interview, she admitted her involvement; telling authorities that she was unaware of the planned robbery. She identified both the man and the other escort in the room with her and the victim during the incident.
Wednesday evening Quick was arrested as he arrived at Atlanta's Hartsfield Airport. Hart, who was taken to Baptist South Hospital, was arrested early Thursday morning by the Jacksonville Sheriff's Office.
Quick and Hart are each charged with robbery with a firearm which carries a $500,000 bond. The investigation is continuing.
Share your thoughts with our readers >>