St Johns County Deputy Justin Cash is investigating a complaint by a customer of a local Beall's department store alleging that a man in the dressing room area was using his cell phone to take pictures of female customers as they changed clothes.
At this point, Cash does not have a suspect's name or address; however, thanks to video surveillance cameras nearby, a young man believed to be white, in his early 30's, average build, about 5'6″ or 5'8″, was recorded and is of interest to Deputy Cash for further questioning.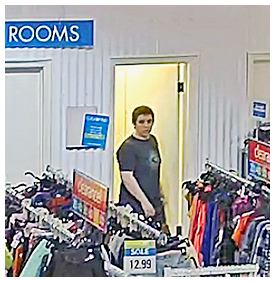 That's where Historic City News readers come in.
If you recognize the man whose image is shown in this photograph, or if you have any information about the allegations of voyeurism made by the complainant, you can contact Deputy Cash by calling the non-emergency number for the Sheriff's Office 904-824-8304. You can reach Deputy Cash by e-mail to jcash@sjso.org.
Share your thoughts with our readers >>