By: Lee Geanuleas
Special to Historic City News
The rezoning of the current Barnacle Bills Restaurant on West Castillo Drive from Historic Preservation-5 (HP-5) to Planned Unit Development (PUD) for San Marco Hotel valet parking is on the City Planning and Zoning Board agenda for Tuesday, April 4th.
After recently talking to a number of Planning and Zoning Board members, I came away with the impression that some seemed unconcerned that the Code and Comprehensive Plan didn't allow this rezoning. Huh? Some seemed to think it was their job to fix the developer's problem. What? Why?
If you want to voice your support for following our City Code and not cannibalizing HP-5 to bail out a developer, come down to the Alcazar Room at City Hall 2:00 p.m. Tuesday. It is the last of seven agenda items, so you may not need to get there too early.
As I've pointed out in previous posts the rezoning is:
• Contrary to code because rezoning to PUD for a non-compatible use (parking) in an HP district is not allowed,
• Contrary to the Comprehensive Plan's Future Land Use Policy 1.3
• Contrary to Code because rezoning to PUD requires a "creative land use" and clearly, a hotel with a parking lot next to it is nobody's definition of "creative"
The developer told me a few weeks ago that he miscalculated the cost of the underground garage by about two-and-a-half times of the estimate made at the time the hotel was originally approved. How could he have been so far off?
Now, he says that he cannot afford to build the hotel with the underground garage, so he bought Barnacle Bill's assuming he could convince the city to ignore its own Code and Comprehensive Plan to get him out of a jam that he made for himself.
If you don't think our Planning and Zoning Board should be ignoring our City Code or using their position to bail out a developer who doesn't seem to be very good at estimating his costs, then let the Planning and Zoning Board know how you feel.
Here are their email addresses:
Sue Agresta: sagresta@comcast.net
Matt Shaffer: matthew.shaffer@att.net
Carl Blow: john.carl.blow@gmail.com
Cathy Brown: coacathy@gmail.com
Grant Misterly: gmisterly@gmail.com
Deltra Long: longdella24@yahoo.com
Sarah Shipp Ryan: sshipp@gmail.com
The diagram below shows the property in question.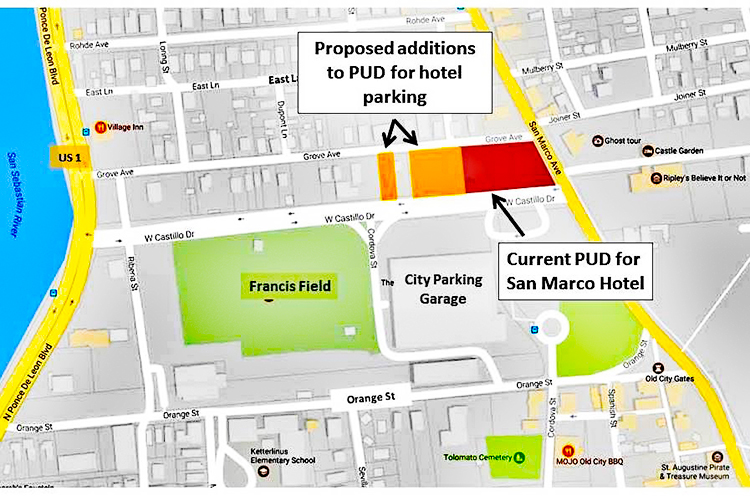 Share your thoughts with our readers >>