Flagler College reported to Historic City News the recipients of the highest honors in various major areas of study who were recognized during an Honors Day awards ceremony on Wednesday that was organized by the Student Success Committee and College Relations department.
Thirty students were presented the "Distinguished Major" award by professors who personally taught and knew them.
"The purpose of Honors Day is to celebrate scholarship and creative activities in the academic life of our campus," College President Dr. William T. Abare, Jr., said. "We assemble here this afternoon to recognize and honor outstanding students who have distinguished themselves at the college through their demanding work, diligence, perseverance and personal sacrifice. I offer each of you my heartiest congratulations."
From juggling full-time jobs with demanding academic course loads to holding multiple leadership positions and serving others in the community, awardees clearly represented achievement.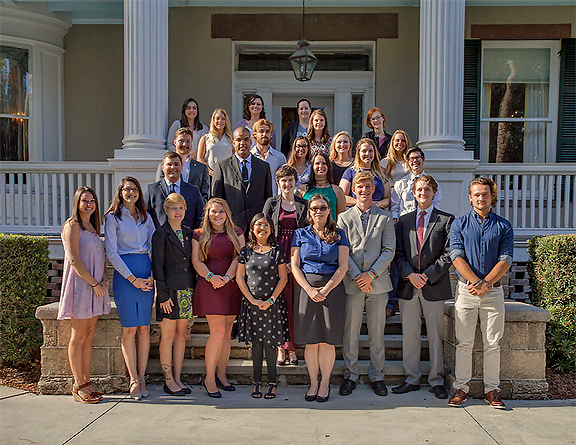 ---
Below are the "2017 Distinguished Major" recipients:
| | |
| --- | --- |
| Art History | Secondary Education – English |
| Lindsay Fallot | Samantha Sharp |
| | |
| Fine Arts | English |
| Adrian Gonzalez | Hannah Betz |
| Graphic Design | |
| Michael Maiocco | Philosophy and Religion |
| | Stephanie Austin |
| Economics | |
| Patrick A. Bissell | History |
| | Logan Brennan |
| Finance | |
| Jack M. Kegelmeyer | Public History |
| | Ellen Fogel |
| Business Administration | |
| Nicholas A. Pappas | Spanish |
| | Matheus Cezar Menezes |
| Accounting | |
| Chloe S. Petito | Liberal Arts |
| | Sarah Strohminger Vaccaro |
| Journalism and Media Production | |
| Natalie Alford | Coastal Environmental Science |
| | Madison Skidmore |
| Media Studies | |
| Chad Collins | Political Science |
| | Andrea Hartung |
| Strategic Communication | |
| Carly Meltzer | International Studies |
| | Pedro Romero |
| Elementary Education | |
| Yasmeen Anis | Psychology |
| | Manon Herbinet |
| Art Education | |
| Taylor Nicholson | Sociology |
| | Adria Mankute |
| Elementary Education – Exceptional Student | |
| Cassandra Kelly | Criminology |
| | Annie Narducci |
| Secondary Education – Social Science | |
| Debra Maffeo | Sport Management |
| | Megan Hooks |
| Elementary Education – Deaf and Hard of Hearing | |
| Dallas McClellan | Theatre Arts |
| | Rebecca Woods |
Share your thoughts with our readers >>