Jeff Gaddie
St Augustine, FL
Dear Historic City News editor:
I was surprised Tuesday when I spotted a woman on Facebook narrating a video of herself stealing a yard sign and placing it in the trunk of her car.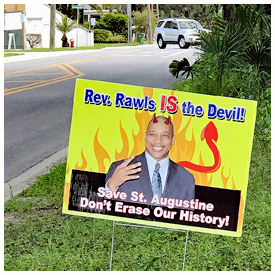 I took no special note of what she had done until I saw another one of the signs and realized what it said. The yard sign had a picture of Rev. Ron Rawls, the AME pastor who has been threatening trouble if the city doesn't remove the confederate monument in the plaza.
I guess I'm not surprised that some are calling Rawls a "devil" since I've learned that he and his family live in Gainesville, not St Augustine. He just seems to be fanning flames of hatred between those of us who live here every day.
Apparently, I might have a reason to be concerned about her, since she was later seen having lunch with vice mayor Todd Neville. I want to know if Neville is putting her up to this, or if he just doesn't mind having lunch with a thief?
I'm concerned because Neville seems to have a special interest in Rev. Rawls and I don't want to find out they've made some "back-room" deal.
Share your thoughts with our readers >>