On the heels of another drug-related arrest Friday in the Plaza Market, covered exclusively by local Historic City News reporters, the St Augustine City Commission will hear, on first reading tonight, revisions to current ordinances that will pave the way for creative artists to return to public places inside the City.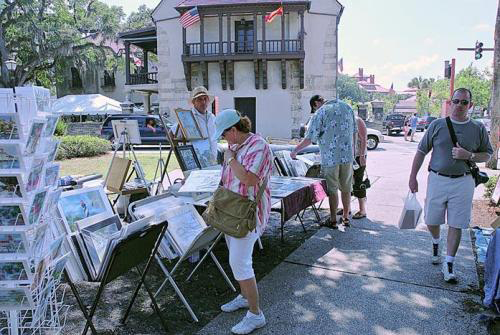 After years of highly adversarial relations between painters, sculptors, photographers and other creative artists, and the City of St Augustine, mediation has led to a negotiated settlement that requires approval by the commission.  The terms of the settlement have been discussed several times behind closed doors in what are known as "shade meetings"; in other words, outside the sunshine afforded by Florida's open meetings laws.
From sources close to the negotiations, Historic City News published the relevant modifications August 5, 2017; and, those modifications are the subject of proposed ordinances 2017-24 through 2017-29 being heard tonight.
Readers have told Historic City News that they believe the return of creative artists to the market will displace the growing number of vagrants, panhandlers, and undesirables who have overtaken the public space.
If you plan to attend the public meeting, go the Alcazar Room on the ground floor courtyard of City Hall at 75 King Street in St Augustine  The meeting will start at 5:00 p.m., and is available for live viewing on GTV/Comcast Channel 3 and on-line at CityStAugTV.com.
Share your thoughts with our readers >>