Law enforcement officers in southern St Johns County have received numerous complaints about the reckless operation of a motorcycle by a driver who has consistently avoided capture when approached by police.
According to a report received by Historic City News today, the St Johns County Sheriff's Office and officers from multiple jurisdictions have unsuccessfully attempted to stop the motorcyclist on several occasions.
"The driver is described as a white male in his 20's to early 30's. He has a distinctive tattoo on his right arm that extends from his elbow to his wrist," a sheriff's spokesman reported. "The motorcycle is believed to be a black Yamaha R6 sport bike."
The bike has fled law enforcement at high rates of speed after officers activated their blue lights and siren. Witnesses say he makes vulgar hand gestures at anyone who attempts to stop him or makes any statements to him as he accelerates away.
The driver has been observed operating in a reckless manner in the area of US-1 South and SR-312 westbound towards SR-207 and then north on South Holmes Boulevard. The driver frequents St Augustine Beach as well; seen driving eastbound over the SR-312 bridge during the early morning hours. He may work at the beach.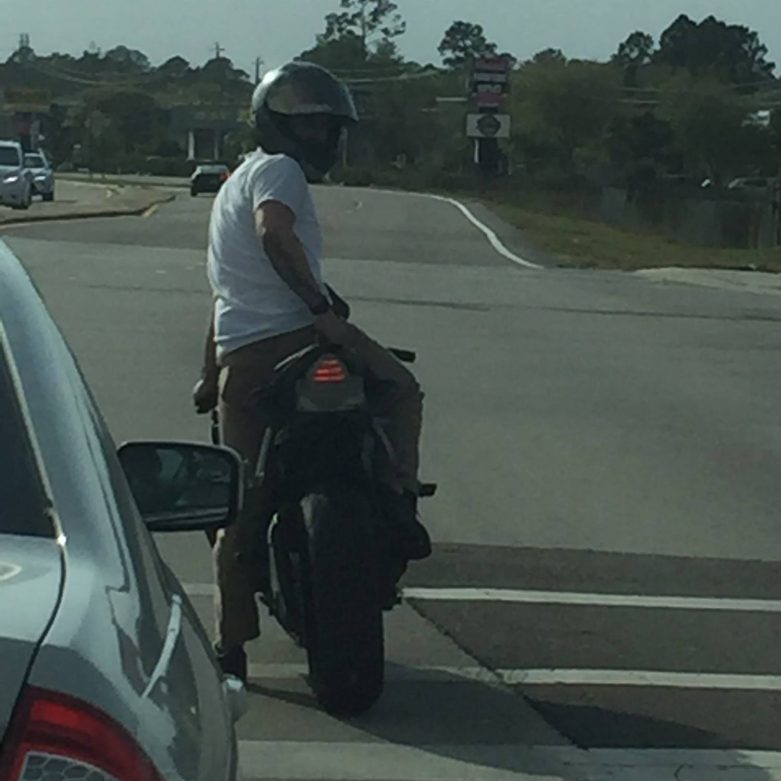 From photos provided by motorists who have encountered the fugitive, it appears as though the license plate on the motorcycle has been bent or damaged, making it virtually impossible to accurately read even at a very close distance.
---
If you know the identity or place of employment of this motorcycle driver, or know where this bike can be located, report your tip to CrimeStoppers of Northeast Florida by calling 1-888-277-8477. You can remain anonymous and be eligible for a reward if your information leads to the apprehension and arrest of this fugitive reckless driver.
---
Share your thoughts with our readers >>