Florida Department of Transportation Public Information Officer Debbie Delgado has informed Historic City News that a construction open house is being hosted for the San Marco Avenue, May Street, and West San Carlos Avenue intersection improvement project as well as the May Street drainage project that will be starting next month.
Delgado made a preliminary announcement that the roadway in the intersection is being reconfigured and widened to allow for better traffic flow in the area based largely on community feedback received thus far.
"This is an informal open house and no presentation is scheduled," Delgado told local reporters. "Instead, project staff from FDOT, Atkins Global, and the project contractor may be available at the meeting to answer questions."
Readers are invited to attend the open house on Wednesday, August 16th from 4:30 p.m. until 6:30 p.m. in the Alcazar Room of City Hall, located off the center courtyard at 75 King Street in St Augustine.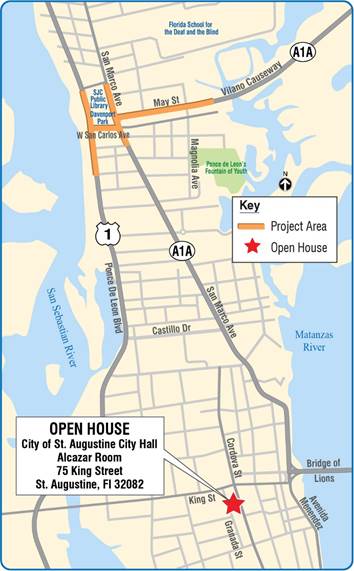 Those interested can drop by anytime during the open house to learn more about the projects including the time frame, construction activities, traffic impacts, and other details.  Construction of the new intersection configuration will begin in mid-September and is scheduled to be open for operation in summer 2018.
Upon the opening of the intersection, replacement of a storm water pipe on the north side of May Street from San Marco Avenue to east of Magnolia Avenue will begin and is expected to be complete in summer 2019.
Petticoat-Schmitt Civil Contractors Inc. of Jacksonville is the contractor for the $9.2 million project.
Share your thoughts with our readers >>