There has been no progress in the local investigation of the murder of two men found inside a burning vehicle near the intersection of Fred Waters Way and Spring Street on November 16, 2016.
The families of Charles Durden and Staffon Larry were beside themselves last year; when, day after day, the local police department refused to release any information about the shootings — beginning with the names of the victims which were not released until November 23, 2016.
Instead of releasing details of the double homicide to the media at the very time when the public could best recall their observations of the incident, local police decided to remain silent.
The information blackout left the West Augustine neighborhood in fear of further violence. Family and friends of the victims took to their social media pages expressing their outrage at the way the crime was being investigated.
The St Johns County Sheriff's Office was called in to assist, to no avail. Pleas from the family continued to be circulated asking that someone come forward with essential information needed to solve the heinous crimes.
Despite at least two gunshots being fired and the vehicle in which the men were found being set ablaze in a residential neighborhood, investigators from the city and county have yet to produce a single suspect.
December 17, 2016 the victim's families organized and held a "March for Justice" to raise awareness that they are still waiting for answers.
About a week ago, Ann Durden spoke to reporters and said she is still upset that police don't appear to be doing anything and that she is staging another "March for Justice" to point out the importance of an anonymous tip to get things moving.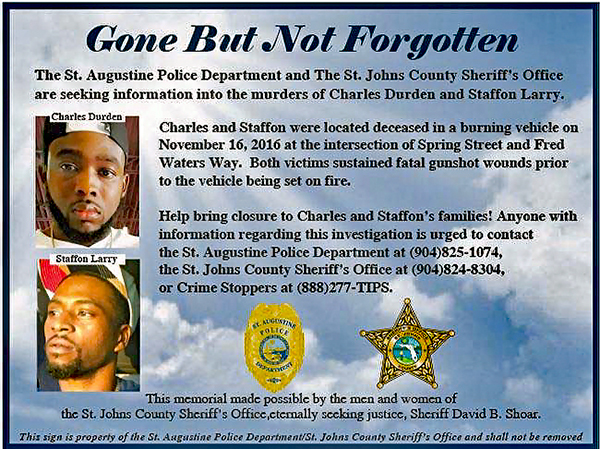 Durden also complained that the roadside memorial keeps being destroyed at the intersection. So this afternoon, five months after the murders occurred, Sheriff David Shoar is providing a permanent sign to the police department that will be placed at the scene of the crimes asking the public for their help. The installation will be at 3:00 p.m. today.
Share your thoughts with our readers >>