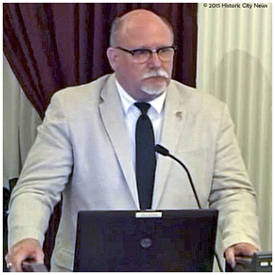 The story of Historic City News starts in St Augustine, with the registration of the HistoricCity.com domain on March 18, 2000.
The Historic City newsletter began as a weekly e-mail and was not supported with a website. We have always been focused on people in public service and people of prominence who impact St Augustine and St Johns County. Our mission statement has not changed, "It is the mission of Historic City News to hold public figures accountable to the public."
We editorially advocate for open meetings, open records, and transparency in our government and are the first to report on fraud, waste and abuse, when it is discovered. Citizen journalists including feature writers, photojournalists, and other contributors are empowered to reach our local base of over thirty-thousand daily readers and thousands more on our social media websites as well as our news domain, historiccity.com.
Our editor-in-chief, Michael Gold, is a champion of the free press and serves as the eyes and ears of the public, reporting news in our community. He is considered expert in local politics and shares that experience with readers from a conservative, non-sugar-coated point-of-view. Our writers have decades of experience in St Johns County, and our editor, a St Augustine native, has more than 50-years involvement in our community.
Over the past 17-years, our publication has developed into an interactive platform that is read by some of the area's most influential citizens.
 
historiccity.com

Our 24-hour news portal is the repository for all of our news articles, editorials, and photo journal reports. It contains the full text of every article as well as an online antecedent history which goes back to 2008. This is the place to go to learn more from our complete archives.

 
historiccitynews.com

Our gateway to facebook and all of the social media features available. This is the place to go to post remarks about breaking news stories, add your opinions or visit our photo galleries; compiled from events happening in and around St Augustine, St Johns County and the Beaches.

 
twitter.com/historiccity

All the news that fits in 140 characters — including the URL. This is the place for "on-the-go" readers, who also want to be "in-the-know" throughout the day. Follow us on twitter and you'll be notified as soon as each article is posted to our website. If the topic is of interest, just click the embedded link to be taken to the full story with pictures.
We encourage readers to click our sponsor's advertising and please trade with our advertisers, when possible. Their generous financial contributions keep Historic City News free from subscription fees. If you want to support a free press in St Augustine, contact us about low cost publicity for your business or service. There is no more economical way to get your message in front of thousands of potential new customers every day.
Updated 11/11/2017